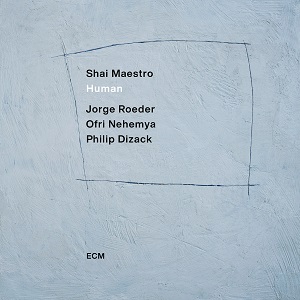 1 February 2021
Noted as one of the venerable ECM label's rising stars, pianist Shai Maestro made a splash with his 2018 label debut (and fifth LP overall) The Dream Thief. That means the follow-up needs to consolidate his stance as a young lion, a task which Human fulfills. Backed by his regular trio with bassist Jorge Roeder and drummer Ofri Nehemya, and joined by guest trumpeter Philip Dizack, the Israeli native wields expansive playing and lyrical melodics for a session that fits in well with ECM's "chamber jazz" aesthetic.
Favoring a bittersweet flavor, Maestro injects enough melancholy moodiness into his melodies to keep any of them from inducing toothaches – cf. "Hank and Charlie," a beauteous ballad informed by the spiritual duets performed by key inspirations Hank Jones and Charlie Haden, or "Compassion," an equally lovely solo piano piece. The keyboarder also uses his bandmates' talents in a thoughtful and intelligent way. Nehemya frequently bumps up against his boss's sweetness, as with his freeform kit work on "Prayer" and his vibrant propulsion on the title track. Dizack's horn often acts as a textural element – he calls little attention to himself, and rarely engages in the expected give-and-take with his employer. One of the best low-enders of his generation, Roeder acts both as glue for the musicians and as a countervoice to Maestro's chord voicings – check "They Went to War" for a masterclass on both. The group's most brash performance comes on a cover of "In a Sentimental Mood," long a Duke Ellington showpiece, but here given a funky, danceable arrangement that's as much hip-hop as jazz.
It's no surprise that the conglomerate is at its best on the extended pieces – "Mystery and Illusion" and especially "The Thief's Dream" (a sly callback to Maestro's prior album) let the band stretch out, swirling around the pianist's notes and allowing themselves to be wielded in service to his vision as surely as he commands his keyboard. If the charge for Human was to solidify its creator's position as an important new voice as composer, bandleader, and piano player, mission accomplished.