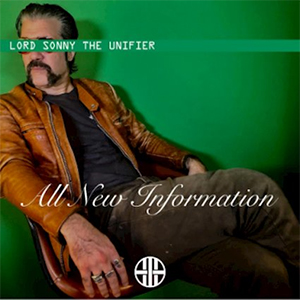 30 January 2021
Brooklyn-based musician Lord Sonny the Unifier is back with a new extended play entitled All New Information, with clear influences of Jack White, Queens of the Stone Age, and the Black Keys at the fore. Lord Sonny moves away slightly from the more psychedelic or prog-tinged elements on his previous album FINAL NOTICE!, and perhaps because time is more precious on an EP, the four songs here are punchy, combining hard rock riffs with gritty synthesizers.
If there is one unifying theme present on all four songs it is about strength in the face of adversity or even certain doom. The ability to stand up to one's foes is at the core of the highlight "Knockout," a call for every David out there to stand up to their Goliath that is made all the more obvious by its accompanying boxing-themed music video. Likewise, "Pay the Man (When You Leave)" has similar rebellious overtones and merch community "(All My Friends Live) Underground" is a thunderous ode to outsiders, freaks, and weirdos who do not have a typical home in society. Finally, All New Information closes with "I Love You World," a strident anthem with vaguely apocalyptic overtones reminiscent of the overall feeling of Ziggy Stardust and the Spiders from Mars.
All New Information is a big step forward for the artist, finding Lord Sonny with a leaner, heavier sound, a clear sense of direction, and a newfound edge in his delivery and songwriting.