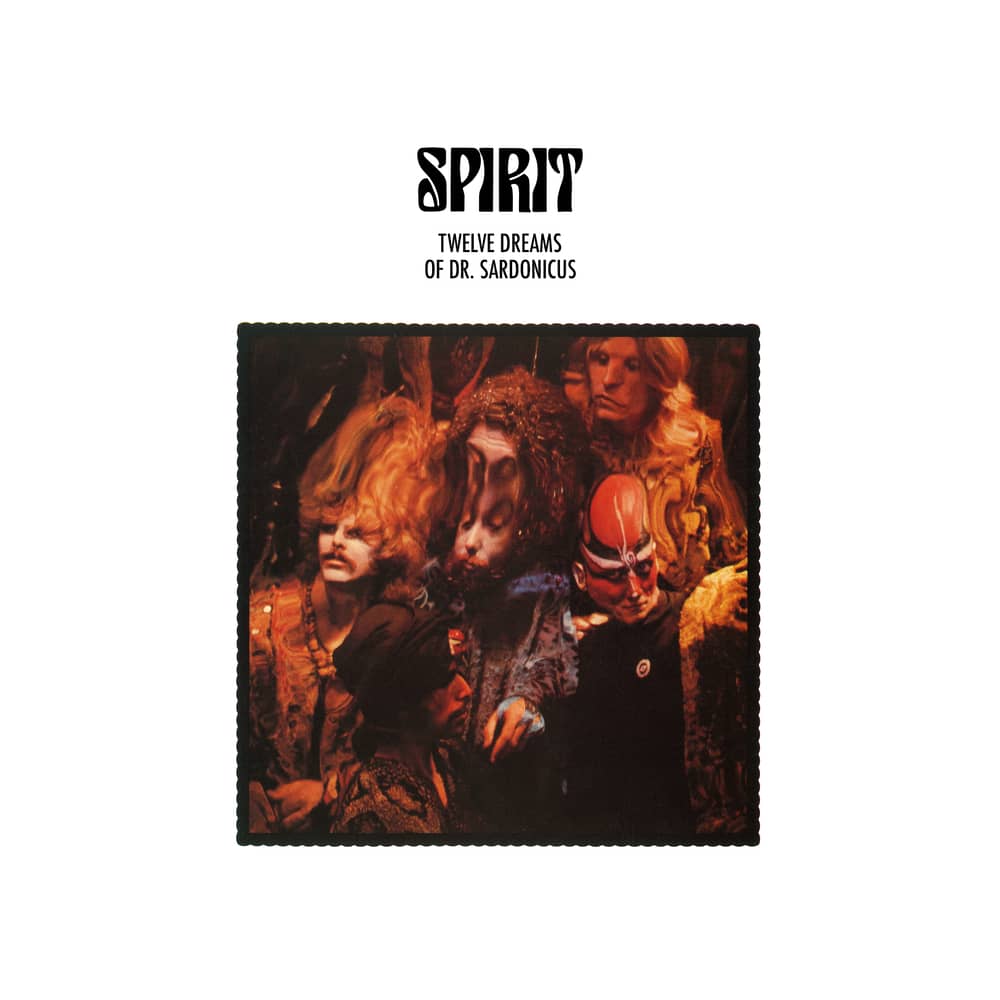 5 February 2022
Spirit's fourth album, The 12 Dreams of Dr. Sardonicus, made its first appearance in 1970. Its indelible grooves marked it as their best record. It is a classic in the psych-rock genre, and now Cherry Red has reissued it with 11 bonus tracks and an additional bonus CD with 17 unreleased, live tracks recorded at The Fillmore West and the Boston Tea Party in 1970. The set includes an illustrated booklet with an essay by Spirit archivist and custodian, Mick Skidmore. One can also not forget the band's association with Dr. Demento, a connection I find delightful to this day.
I first heard Spirit in the early 80s (thanks to my brother Rich), and this was the album that defined them for me, along with the Time Circle compilation. Nobody was listening to this material back then, save for '1984', 'Fresh Garbage', or "Nature's Way'. This early exposure informed my later love and appreciation for the psychedelic genre. But Spirit was so much more than that, also seamlessly meshing in jazz and prog rock elements into their sound. Nobody from that time period sounded like them, and that remains true to this day. Mark Andes and Jay Ferguson are the only two surviving original members of the group. Guitarist Randy California drowned after saving his son in Hawaii, and his stepfather Ed Cassidy lived to the ripe old age of 89. Keyboardist John Locke passed at age 62. I suppose a wise reviewer would devour the liner notes, but I go with my gut on these tunes as they've inhabited my life for so long.
I first reviewed the band's work back in 2018 (It Shall Be), and that might be the last time I visited these songs. They sound as fresh as ever, from the acoustic start of the pretty "Prelude – Nothin to Hide", which quickly charges into the band's trademark sound. The musical chops in this group are top notch, and the singing is distinctive. Once heard, you will never forget their sound. As a side note, you might know the 70s hit "Thunder Island", and that is courtesy of Jay Ferguson. "Nature's Way" was an actual hit for the band, a cautionary tale about the state of our natural resources that resonates to this day. It is highly melodic, but there is a warning behind the intertwining harmonies. "Animal Zoo" is talking about the human animal, and man, I sure feel this in these pandemic times. The melody is brilliant and imitates a calliope in spots. "Love Has Found a Way" is one of the stranger efforts here, a mashed up psychedelic jazz puzzle of a tune. "Mr. Skin" was another hit for the group, with a weirdly entrancing opening with a crooning Jay Ferguson. He has a compelling voice, that lifts the song into the later horn section, which is straight out of a 70s cop show (if there was any justice in the world).
"Space Child" comes out of left field, orbiting straight to the fizzy psych firmament. It's an odd little instrumental that encompasses all the styles the band explored here. The spooky "When I Touch You" is cool as fuck, what can I say except I love it. Out of the many oddball songs here, this one stands out. I like the way it builds along with Randy California's majestic guitar patterns. And of course, Jay has to scream at its peak! "Street Worm" is another neat tune that showcases guitar and keyboards. Randy has such a distinctive way of playing, I don't think he sounds like anyone else. So sad he is not here to grace us with his work any longer. "Life Has Just Begun" is a gorgeous slice of psych folk, a more conventional side to the group. "Morning Will Come" is another fun tune with horns, and it is infectious to be sure.
Bonus material on the first disk consists of unreleased tracks, demos, and live material. I won't spend as much time on this. From an archival perspective, it's neat hearing songs I've not heard in my lifetime, though one can certainly understand why they didn't make the album. "Dirty Dan" is a jam, and thankfully a short and well constructed one (not a jam fan). The mono version of "Animal Zoo" is more up front than the stereo version, but it does not vary much. "Red Light Roll On" has some great vocals from Jay. The rehearsal version of "When I Touch You" is as raw as it gets (the original is better), and there are no vocals.
The second disk is all live material, and I admit up front that as a rule, I am no fan of live albums. But the inclusion of neat songs like "1984" and "Fresh Garbage" does draw me in. These are not sloppy tossed out versions. The band was on point throughout these sessions, and "1984" is a total creep-show, aided by the fun house organ. "Fresh Garbage" is both ominous and upbeat, mostly on the keyboard break. "It Shall Be" is really good live, and I haven't heard this in a long while. Some of the other selections are lower quality recordings, so they don't engage me as much. In short, this is a very welcome reissue of a classic Spirit album, sounding as groundbreaking and fresh today as it did in 1970. Do not miss it if you count yourself a fan.