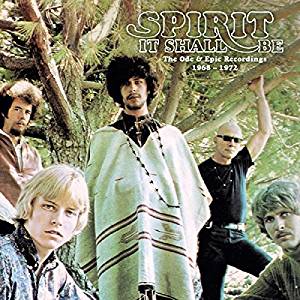 6 May 2018
I've always thought Spirit was way ahead of its time, producing music in an era when flowery psychedelia was the norm instead of the different direction taken by this California collective. Nightmare scenarios were more likely than skipping down the garden path, and they combined top notch musicianship with a terrific suite of songs. Twelve Dreams of Dr. Sardonicus is represented here and is an underrated classic album of that period, and one that more people need to hear! It has resided in my collection for nigh on forty years, and it belongs in yours too. Short of that, you should pick up this collection that gathers together all their recordings on Ode and Epic Records between '68-'72. Drop in on any of these songs and you will hear a band at its creative best, wielding psych, blues, jazz, orchestral pop, and rock with equal aplomb. The original lineup included the amazing Randy California on guitar, keyboardist John Locke, bassist/vocalist Mark Andes, vocalist and primary songwriter Jay Ferguson and Randy's stepfather Ed Cassidy on drums, they were quite the band! The band's original name was Spirits Rebellious, named after a book of short stories by Khalil Gibran. They shortened it to Spirit, and booked time at Western Recorders studio, where they recorded a demo with none other than Dr. Demento (Barry Hansen). Hansen lived with the band for awhile at Locke's home (the Yellow House) in Topanga. Yellow House attracted all sorts of strange characters, including Charles Manson!
The original lineup achieved modest success, but even the ambitious and excellent 12 Dreams failed to achieve what the band deserved. In fact, there was a fallout directly after its release that splintered the group for many years. But here in the present, listeners can savor the forward-reaching, trippy excursions of a band at the top of its game. Newly re-mastered, this anthology features all of Spirit's recordings for the Ode and Epic labels between 1968 and 1972 and notably includes the entire mono mix of the band's self-titled debut album (appearing on CD for the first time), the complete soundtrack to the film The Model Shop, along with original 1968 stereo mix of The Family That Plays Together, associated out-takes, singles and alternate mixes undertaken in 1991 for the Time Circle compilation. It Shall Be also includes an illustrated booklet with an essay by Malcolm Dome and featuring archive interviews with Randy California and Ed Cassidy.
There are five disks brimming with great tunes, and I could run down every song for you. However, I would rather present the highlights of my listening experience and offer those reading this lengthy review an overall summary of each disk. Before starting, let me admit my own limitations with respect to knowing every note that Spirit produced. In fact, I can only claim to initially know the album 12 Dreams plus the excellent compilation Time Circle . The latter release introduced me to a bunch of the songs culled from other albums. I continue to maintain that the group was startlingly original, off center, and just plain gonzo weird in general. They could be gentle and then storm you with scary, hard-hitting tunes. In short, they could do and play pretty much any style they wanted, and few of their peers could touch them. Unfair as it is, most bands with these qualities fail to achieve lasting fame, but their songs remain to entertain all of us. So let's get down to discussing the treasure that lies herein!
Disk 1 contains the band's first two 1968 albums, the self-titled Spirit and The Family That Plays Together. "Fresh Garbage", short on lyrics but long in meaning about the environment and treating it as your garbage can, is the most well known tune on the band's debut. "Uncle Jack" is couched in noodly guitar riffs and Locke's ever present keyboards, and once you get past its jam band aspect, it's one cool tune with some fine harmonies. "Taurus" was a tune that embroiled Spirit in a lawsuit with Led Zeppelin, with the claim that "Stairway to Heaven" ripped it off. Maybe a little. "Taurus" is much more finely rendered with baroque flourishes, and it's all good. "Girl In Your Eye" is over the top psychedelic with sitars and screams 1968,a tie-dyed daydream if ever one existed. "Topanga Windows" is yet another fine slice of psych pop, carefree and careening into different tempos without a hitch. Jay Ferguson wrote the bulk of the tunes here, all of them inventive and engaging. And then moving on to "I Got a Line On You", with its massive hooks, one wonders why this wasn't an equally massive hit. It has all the earmarks of a Top 10 smash! "It Shall Be", the song from which this collection draws its name, is furtive and mysterious, with cool flute underscoring some boss vocals and a strong melody. When the brass joins in, it becomes a nearly perfect late 60s tune with jazzy elements. Cool! "Poor Richard" revisits the 'freshness of garbage' and is another beauty of a song, with strong instrumental contributions from Locke and California. "Dream Within a Dream" is gorgeous, with wonderful, sunny harmonies and an expansive sonic space.
Disk 2 comprises soundtrack music for the movie The Model Shop along with the band's third album Clear. The soundtrack tunes include the combined writing efforts of the whole group. It is pleasant, and includes the charming "Fog", but is not essential listening. "Aren't You Glad (demo) by Jay Ferguson is an interesting take on the original song. Moving on to Clear, we are treated to the neat opener, "Dark-Eyed Woman". "Apple Orchard" is a bluesy treat, though it breaks no new ground stylistically. "So Little Time to Fly" is also cool, while "Give a Life, Take a Life" is simply splendid, easily my favorite song here. "New Dope In Town" closes down the second disk, and reminds me of Traffic!
Disk 3 is a tasty, musical treat, as it contains the band's best work, 12 Dreams of Dr. Sardonicus. The remastered tunes sound great and the production is spacious and clear. I always liked "Prelude – Nothing to Hide", with its slightly weird vocals and some of Randy's slide work. "Nature's Way" is a song you are likely to know if you've made it this far, and contains pointed lyrics about man ruining the Earth. It resonates all these decades later! "Animal Zoo" is a rather fun listen, and I find myself bobbing my head with the beat. "Why Can't I Be Free?" is a 1 minute interlude and it's a lovely pause from the earlier tunes. The mix of "Mr. Skin" sounds markedly different from what I remember from the original record, but it's just as cool! "When I Touch You" is a brilliant and slightly terrifying bit of psych that hits hard and has a manic chorus. "Street Worm" continues the musical themes explored here, and has some tasty guitar and keyboard lines interwoven throughout. "Life Has Just Begun" sounds like it flew in from outer space, and is delicate and lovely. "Morning Will Come" is also terrific, with a great brass arrangement, while the final "Soldier" is a solemn close to the first half of this disk. "Feedback" is an album made without California, Locke, or Ferguson, all of whom split with the band after 12 Dreams. The magic is gone, and the songs are straightforward rock and roll. I might as well listen to The Eagles or some other overplayed band, for there is nothing extraordinary here.
The fourth disk is a mono version of the band's first album, for completists only. Certainly it's interesting to hear different mixes, but they aren't substantially different from the stereo mixes. There are some extras here, including "Veruska" and the jazzy "Free Spirit". There are also mixes taken from the earlier Time Circle compilation, and I prefer the mix of "I've Got a Line On You" from Time Circle.
The final disk collates alternate takes from Time Circle and The Family That Stays Together with A and B sides. "Scherozode (Time Circle Mix)" is straight jazz, a possible precursor for where the band might have gone. I really dig the take on "Dream Within a Dream (Time Circle Mix)", for the vocals are finely drawn out. Nice work! The enchanting "Fog" makes another appearance here, and it's even more captivating than the first instance on an earlier disk. And finally we get to the capstone tune, the tremendous and creepy "1984". Truth be told, it sounds like The Damned! Utterly cool keyboards and ominous vocals just make the wait worthwhile to get to this tune.
In summary, this collection brings together practically everything you'd care to hear from this fantastic band that was so far ahead of their time. Some of it drags, but when it hits its mark, which is often, you will delight in the off kilter and neat bunch of songs. Highly recommended.