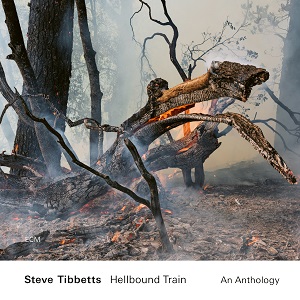 1 July 2022
It sounds like hype, but it's the truth: there's no one like Steve Tibbetts. The Minnesota guitarist and composer has created a near-five decade body of work that straddles several genres (jazz, folk, rock, ambient, various types of world musics) without sitting comfortably in any of them. From delicate 12-string acoustic drones to raging electric firestorms to unidentifiable sonic explorations, Tibbetts follows his muse wherever it leads without ever sounding like anyone but himself. Despite his long career and the longtime patronage of ECM Records, Tibbetts remains an enigma in the music world – well-respected by critics and arts organizations, but rarely, if ever, cited by other musicians as a peer or influence, which seems astonishingly weird.
After thirteen albums, with another under construction, Tibbetts apparently felt it was time to sum up his career to date with Hellbound Train, a two-disk, artist-curated collection that attempts to tell the artiste's story. As with any other memoir, history can be selective, and such is the case here. With a mind toward creating an album for listening, rather than studying, Tibbetts elected to go through his songs and pick the ones that most sound like they go together, rather than the ones that mark signposts in his career. Thus the record isn't as comprehensive as it might have been; while skipping the two albums he made with singer Choyling Droma and the one he did with hardanger fiddler Knut Hamre makes sense, ignoring everything before his third album Northern Song (1982), and pulling the majority of its tracks from three LPs: 1989's Big Map Idea, 1994's The Fall of Us All, and 2002's A Man About a Horse makes for a quirkier proposition.
The first disk opens with "Full Moon Dogs" from The Fall of Us All, a tune that begins with ambient guitar drones, wordless ethereal vocals and Eastern and African-influenced polyrhythms from his longtime percussionist Marc Anderson – a key collaborator for forty years. Just as we've settled into this mysterious other world to which Tibbetts has taken us, the tempo speeds up, the drones become deeper and the guitarist kicks on the distortion pedal, searing the surface of the composition with swathes of loud Indian modalities. Indeed, the bulk of this disk comes from Fall and its follow-up A Man About a Horse, both mostly (but not solely) electric masterpieces in which Eastern melodies, plush synth washes and uncommon percussion meet brooding grunge, gnarled abrasion and clouds of feedback for abstract sound paintings that involve rather than divert. From the rumbling stomp of "Your Cat" (sadly the only cut from his landmark 1986 LP Exploded View) and the earthy shimmer of "Chandoha" to the dynamic weave of "Roam and Spy" and the looming menace of the title track, Disk 1 is a masterclass on how to blend the American folk and rock guitar tradition with rhythms and tonalities that come from anywhere but here.
After all the amplified stormclouds populating the first half, the second half of Hellbound Train puts the spotlight on Tibbetts' acoustic side. This disk spreads the love a bit more across his catalog, taking fairly evenhanded chunks from 1989's eclectic Big Map Idea, 2010's all-acoustic Natural Causes and 2018's similarly electricity-challenged Life Is, while sprinkling in cuts from 1982's Northern Song and 1984's Safe Journey. As on the songs from the first disk, many of these tunes mix textures and genres. Steel drums, synths, electric swells and all manner of exotic percussion abound, but never obscure the beauty of Tibbetts' acoustic fingerpicking. Listen to the way the rhythm and electronic ambience support, rather than wash over, the swirling "Wish," or the tabla percolation that gives movement to the guitarpeggios of "Aerial View." Michelle Kinney's cello provides a foundation for the guitarist on the lovely "Life of Emily," while the sound of the room itself wraps around Tibbetts' guitar, kalimba and piano during "The Big Wind." The ghosts on "Night Again" send the guitar lines out to the ether, while Tibbetts' version of Jimmy Page's "Black Mountain Side" (itself a rewrite of the Bert Jansch arrangement of the Irish folk tune "Blackwaterside") fleshes out the tune and puts it in another dimension entirely. Never satisfied with noodling wallpaper, Tibbetts instead creates environments that puts his acoustica elsewhere than coffee shop Muzak or new age specialty programs.
Frankly, it's a shame Tibbetts didn't dig further back. The tune "Ur," an acoustic/electric prog-folk epic from his 1980 breakthrough second album Yr, makes a dandy introduction to his musical worldview, but was left off along with anything else from that album. But from a listener's standpoint the sequence makes sense, with a sense of flow most compilation records don't have due to time jumps and a need to cover all the bases. Regardless, Hellbound Train succeeds in its aim: it effectively tells the story of Tibbetts' artistic vision, and encourages new fans to dig deeper.