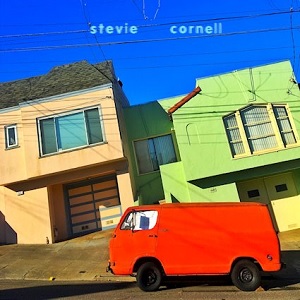 19 April 2022
Stevie Cornell is a singer-songwriter from Santa Rosa, CA whose music roots go back to the 70s when he was a member of the Easy Bay punk group the Young Adults. He's returned to music after a twenty year hiatus to raise a family, and his new self-titled album Stevie Cornell is the result. Yet this gap doesn't show at all as the music has all the exciting freshness of a newcomer and all the superb skill of an experienced troubadour.
Cornell's trajectory somewhat echoes that of Nick Lowe, whose raucous beginnings gradually gave way to a gentler croon subtly influenced by pop of the 50s and early 60s. This is clearest on the opener "If Cryin' is a Crime" with his fantastic Everly Brothers close harmonies, or on "Whispering Wind," with its jangly guitars and melancholy Merseybeat swing. With every moment, Cornell brings to these songs a deft touch, a knack for classic pop structure, and a craftsmanship rare in this day and age. He skillfully avoids retro novelty at every turn, and any number of these songs could have been genuine hits for acts like Roy Orbison or Glen Campbell.
Stevie Cornell is in some ways the perfect introduction to an artist, but it also feels like the crowning achievement from an artist who has created a work of art filled with everything he has learned along the way.