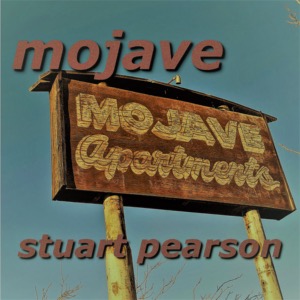 1 August 2022
Though multi-instrumentalist Pearson was raised on Long Island, and now operates out of Los Angeles, his self-described "dark Americana" likely took root during his family's frequent summer trips to his grandfather's Wisconsin farm, where country artists like Johnny Cash, Bobbie Gentry, and Charlie Rich — music that "sounded rusty and full of weeds," according to him — were regularly played. Moving forward to 2020, his solo debut LP Dark Americana: Stories and Songs often brought to mind the desolate, spooky gothic country and noirish folk of The Handsome Family, especially that band's captivating True Detective season one opening theme song, "Far From Any Road." In fact, Pearson's expressive, mysterious voice even recalls The Handsome Family's Brett Sparks, while also alternating between a deep, foreboding Nick Cave-esque baritone and a raspier, ornery Tom Waits-evoking growl. But while this follow-up album resembles its predecessor in mood and style, it feels more ambitious and expansive in scope, with intricate arrangements that conjure Ennio Morricone's spacious, evocative spaghetti western soundtracks from films like A Fistful of Dollars and The Good, the Bad and the Ugly.
"Like a House with Broken Windows"

What further sets Mojave apart is that every song features a varied, eclectic array of instruments, all of which Pearson plays himself, yet he never sounds overmatched or amateurish on any of them. (That virtuosic musical ability goes back to his previous '90s band Through the Woods, a five-piece that would use 19 instruments on stage, as well as his later solo restaurant and coffee house performances around L.A., which found him playing things like Slinkys, remote-controlled toys, accordion, hurdy-gurdy, and a cymbal-playing toy monkey named Carlos!) For example, the opening "Mack the Knife"-hued "Like a House with Broken Windows" employs twangy mandolin, weeping pedal steel, clippity-clop percussion, and howls like baying wolves; the "Bang a Gong"-tinged "Down the Ravine" utilizes pots, pans, picture frames, a bathtub, and "large decorative sticks" to generate its raunchy, clanking pandemonium; the gruesome murder ballad/campfire tale "Dragging the Lake (On the Day of the Dead)" applies doleful trombone and weary harmonica to heighten its growing sense of dread; and the galloping "The Interstate" combines a droning didgeridoo and buzzing jaw harp to give the song a tense, unsettling vibe. Elsewhere, "Are They Digging Your Grave (Or Are They Digging Mine?)" has a clomping rhythm like a prison chain gang, overlaid with resonant sheets of banjo, Portuguese guitarra, and dulcimer, while "You Don't See Me (Jimmy Crack Corn)" is peppered with funky, soulful horn bleats, piercing fiddle bowing, and Pearson's quivery, sandpaper vocals.
"Are They Digging Your Grave (Or Are They Digging Mine?)"

The final three songs boast the album's most full-bodied, cinematic orchestration, each enhanced by lithe, sweeping strings. "You Never Really Know" is a swing jazz-inspired waltz with timpani-flavored drum beats, "Tomorrow's Gonna Hunt You Down" is a footstomp/handclap-driven swamp-blues dirge, and "Dance Skeletons Dance" is a dynamic, windswept Morricone-inspired anthem with clacking, castanet-simulating bones providing a Spanish flamenco feel; on all three, Pearson sings in a low, ominous croon that recalls Thurl Ravenscroft's bass voice on "You're a Mean One, Mr. Grinch." Rounding out the album is "One Cut," a beguiling, spiritual country-folk tune sung by Pearson's writing partner on four tracks, the breathy-voiced Hunter Lowry. Accompanied only by his spare, ringing acoustic, it's a pretty yet disturbing lullaby about a tormented, guilt-ridden spouse contemplating ending her life to save her lover's soul. Though Mojave depicts such bleak struggles of a long-forgotten, decaying region, Pearson's vivid, authentic words and music make them feel alive and timeless.
Artist Website | Bandcamp | Instagram | Facebook | YouTube
"Dance Skeletons Dance"