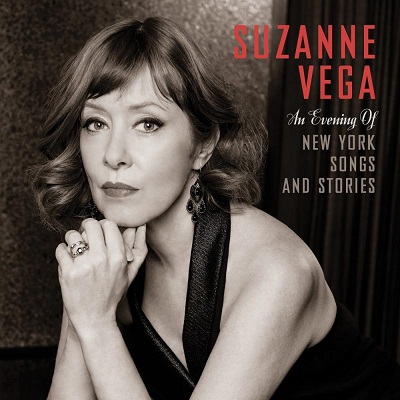 12 September 2020
"New York City spread herself before you, With her bangles and her spangles and her stars." -"New York Is A Woman"
Just when you are fed up as the world around you eats itself alive, Suzanne Vega returns to offer a light in the darkness. With a new live album, and a series of global, live streamed concerts, this is the right artist, at the right time. The live album An Evening of New York Songs and Stories is raw, beautiful, and intimate. Recorded live in early 2019 at New York's Café Carlyle, and flanked by the talent of guitarist Gerry Leonard, bassist Jeff Allen and keyboardist Jamie Edwards, the album is a skilful recording, executed and immersed in style.
The talent of Suzanne not only lies in her ability to pen the most memorable of songs, but it is in her ability to conjure up heartbreaking, and the most crippling emotions, and then let them go, releasing them back into the ether. That is exactly what is on offer here. Though, it is not simply an album to deregulate your inner self, it is a travelogue, a journey through New York. As the title suggests, An Evening of New York Songs and Stories, Suzanne takes the audience by the hand and strides the City pavements. Performing songs which are relatable to this journey. What's more the songs are mostly intercut with stories, as the songstress tells stories of when she came to New York, and then launches into "Gypsy". 
In truth, this is entertainment, a slice of the musical experience that we only get from a live setting. The power with which Suzanne Vega tells her stories are direct, insightful and enjoyable. For example, Suzanne tells of the influential time when she first saw the dark prince of New York, Lou Reed. This is of course before she performs a deep homage to Reed with a captivating "Walk On The Wild Side". 

From the audience clap, and Suzanne's own welcoming introduction, "Marlene On The Wall" kicks things off. One thing is evident, her voice has not changed, aged or lost any of it's spark. This is followed by a gentle "Luka", the drama of the original becomes even more stated in the live setting. Between well known classics such as "Luka", there are deeper cuts from her career. The more recent 2007 track "New York Is A Woman" sounds incredibly inspired. From the same Grammy Winning album
Beauty & Crime
, 
"Frank and Eva" is a modern classic, hinging on rock music with an alluring guitar crank. The lyrics are simply phenomenal. Same too for the Lover, Beloved: Songs from an Evening with Carson McCullers album cut "New York Is My Destination". 
Going back to the beginning and Suzanne's first masterpiece, the self-titled debut is respectfully accounted for in "Freeze Tag", though nothing is left out. "Tom's Diner" is an explosive, minimalist piece of work. The rock and roll of "Tombstone" from the mid-nineties cracker Nine Objects of Desire is an exceptional playground of musicianship. Leading into the finale of "Thin Man". A jazzy, soulful slice of goodness that brings the affair to a close. 
To accompany the album, Suzanne Vega will play two globally live streamed concerts from New York City's iconic Blue Note Jazz Club in Greenwich Village. The first will go live on October 7 at 9 p.m. US Eastern Daylight Time for North American fans and the second will go live on October 8 at 8 p.m. UK time (3pm Eastern), to accommodate U.K. and European audiences. This is her way of supporting live music, as the artist has partnered with venues and promoters across the globe. It may not be what we wanted, but it is something to take the edge off of that gig-withdrawal we all feel. 
Tickets
Vinyl Tracklist; 
Side A
1. Marlene On The Wall
2. Luka
3. 'So how many people are here from out of town?'
4. New York Is A Woman
5. 'This next song takes place on 59th street…'
6. Frank and Eva
Side B
7. 'So I myself came to New York City when I was 2 ½ years old'
8. Gypsy
9. Freeze Tag
10. Pornographer's Dream
11. 'This next song is called New York Is My Destination'
12. New York Is My Destination
Side C
13. 'The first time I saw Lou Reed…'
14. Walk On The Wild Side
15. Ludlow Street
16. Cracking
17. 'And now we've got a song about those times…'
18. Some Journey
Side D
19. 'I'm gonna close with this song…'
20. Tom's Diner
21. 'Would you like another one?'
22. Anniversary
23. Tombstone
24. Thin Man