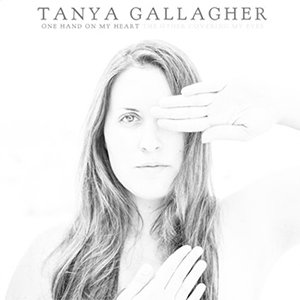 26 July 2019
Florida alt-country artist Tanya Gallagher is getting ready to release her new EP One Hand On My Heart, the culmination of a rocky personal life which left her with a body of over 200 songs written within a year from which to choose. Equally influenced by folk artists like Joni Mitchell and singer/songwriters like Alanis Morissette, Gallagher's sound is intimate and stripped back, allowing her deeply personal and confessional lyrics to come to the front. Although the genre can often slip easily into narcissistic self-absorption, the songs on this EP are more worldly and mature in their scope and contain many elements which are immediately relatable to a wide audience.
All of the songs are interrelated and tell the story of Gallagher's breakup with a longtime boyfriend. The opening track, "Dark Side," for instance, is a brooding and smoky perspective of a relationship right at the moment of its final death knell, and the beautiful '70s country of "A Little Effort" treads similar ground but with a more melancholy, pensive attitude. The true centerpiece of the EP, and perhaps its finest moment, "Barren Land," deals with the more spiritual journey that accompanies a breakup's aftermath, and it shows off Gallagher's superb craft as a songwriter.
One Hand On My Heart is a heavy listen that demands full emotional investment on the part of the listener, but the honesty and depth in the music also make it one of the truest statements in the genre for quite some time.