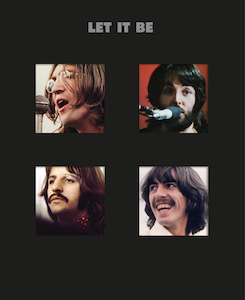 18 October 2021
Of all the albums released by The Beatles, Let It Be has the most complicated history. It was recorded primarily in January 1969 with tape running almost constantly as cameras documented the sometimes-contentious sessions; the subsequent "Let It Be" feature film captured what seemed to be a band in the process of breaking up.
Meanwhile, John, Paul, George and Ringo moved on to make Abbey Road, leaving Let It Be in limbo. Glyn Johns, who engineered the sessions, compiled a rough draft of the album that emphasized The Beatles' informal side, but it was shelved. Phil Spector, known for his Wall of Sound production style on hits by the Ronettes and Righteous Brothers, was handed the tapes and added orchestral flourishes to a number of tracks, in sharp contrast to the original back-to-basics philosophy behind Let It Be. Serving as The Beatles' swan song, the Spectorized version of the album was eventually released in mid-1970, well after Abbey Road.
In 2003, Apple issued Let It Be…Naked, an alternate, stripped-down version of the album with Spector's input removed and tracks reordered or replaced. Meanwhile, the bootleggers had a field day putting out hours of otherwise unreleased music from the sessions. Ultimately, the question was: What is the definitive version of Let It Be?
Now, Let It Be Special Edition offers a new perspective on the album with multiple packages, all anchored by a new remix. It's part of a multimedia campaign intended to put a more positive spin on the story, along with a large hardcover book and a documentary series from "Lord of the Rings" director Peter Jackson.
Providing the most extensive look at Let It Be, the five-disc version collects some (though far from all) of the music previously available only in unauthorized versions, plus a slew of interesting recording details in an accompanying book. The remix by Giles Martin and Sam Okell is lovely, bringing striking clarity to the voices and guitars of songs like "Two of Us" and "I've Got a Feeling." Alas, Phil Spector's heavy-handed additions to "Let It Be," "Across the Universe" and "The Long and Winding Road" are immune to the most skillful remixing.
However, the discs of early takes and rehearsals, plus a disc of the original Glyn Johns mix, offer less-cluttered versions of these tunes, along with snippets of oldies and unpolished takes on songs that would surface on Abbey Road, as well as previews of future Beatle solo tracks like George's "All Things Must Pass," John's "Gimme Some Truth" and Paul's "Teddy Boy."
Let It Be Special Edition suggests there is no final version of this intriguing album, which still feels like a missed opportunity more than 50 years later. But there's a lot of vibrant music, from "Get Back" to "I Me Mine" to "Dig a Pony." Your own best edit of Let It Be is just a playlist away.