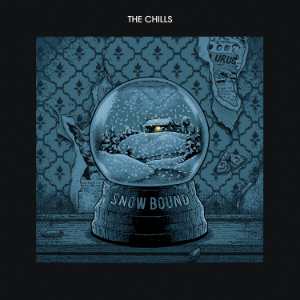 8 September 2018
The venerable Dunedin quintet is back after three years with a delectable but moody new release. The title and even the cover art lend themselves to the chilled political environment out there. How bandleader and main songwriter Martin Phillips manages to skew his somewhat dark visions into sparkling alt-pop is a bit of a mystery. He is a phenomenal songwriter, from his very early days on the Dunedin Double EP and the still amazing Kaleidoscope World compilation. Those were this listener's first entree into his singular artistic vision. While I confess that some of the albums that came along later did not thrill me as much, the output from this new lineup has been remarkable. I do think it's the absolute best lineup of Martin's band, and I feel so blessed to have seen them headline the 2016 NY Pop Fest.
Opening track "Bad Sugar" is the perfect pop confection to usher in this new suite of music, and I love the oboe (or clarinet) that weaves magically through the mix. The song takes a very cool turn at around the 2:00 mark, and then the song returns to the main melody. I dare listeners not to sing along with this earworm (among many on this release). "Time to Atone" is a sophisticated and pleasant tune, caressed as it is by Martin's velvety vocals. "The Greatest Guide" seems to discuss nature and those who preserve it, as well as losing someone who made a difference. But that is just my interpretation. "Scarred" has the keyboards way up front and I adore the spacey synth swirls that enhance this straightforward rocker, another strong effort in this fine collection.
"Complex" is the very first song I heard off this album, as well as the first leaked single. It is classic Chills, with Martin's fine wordplay soaring over the buoyant music. Just terrific, and another singalong to be sure. "Deep Belief" is haunting and reflective, and it sure reminds me of the band's older material, albeit with much better production. Once again we are treated to the presence of a woodwind, and I have no information on who is playing. It is just lovely. The second leaked single, "Lord of All I Survey" is fantastic, and top-lines the entire record. It is crammed full of all the Chills hallmarks: engaging lyrics, and melodies to die for. And the chorus is all kinds of awesome. "Snow Bound" chugs along in that enchanting Flying Nun way that I dig so much in early Chills as well as The Clean. "Easy Peazy" seems to discuss someone trying to find a silver lining amidst all the gloom. "In Harmony" steps up the energy and is a fine coda to this release. Highly recommended for all fans of Kiwi pop and anyone who appreciates good music. Catch up with the band on Facebook and pick up the album over on Bandcamp.