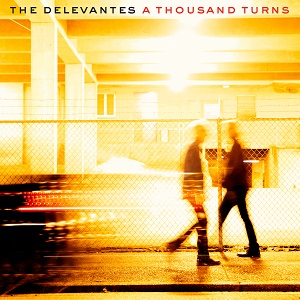 17 September 2021
Though they never hit the big time, the Delevantes – New Jersey-born brothers Bob and Mike – provided unsung highlights of the nascent Americana scene of the nineties. Along with producer Garry Tallent, longtime bassist of the E Street Band, the Nashville-based duo produced a pair of low-key but enduring pleasures with 1995's Long About That Time and 1997's Postcards From Along the Way. Then other pursuits came calling, with both Delevantes going into visual art and design and Bob recording three solo albums.
Nearly a quarter of a century after their last album together, the Delevantes reunite with Tallent for album #3. As before, the sibs deftly blend country, folk and rock on A Thousand Turns, with acoustic rhythms, 12-string flourishes, no-nonsense rhythms and plainspoken songs about life in a working class town. The chiming "All in All" and "The Light of Your Eyes" look at love from the perspective of maturity and the tunefulness of lost Everly Brothers songs. "Dear Kate" pays tribute to a friend's lost daughter, with sparkling 12-string, harmonized horns and a frisky beat turning it into a celebration, rather than a funeral. In the classic tradition, the choogling rocker "Short Bed Blues" jubilates the simple pleasures of a new ride, while the midtempo "Deeper Shade of Blue" dives into melancholy and surfaces with gold. The pair get political on the psychedelic-tinged, electric sitar-frosted "The Junkman," a straightforward attack on the last president ("The junkman's running the show"), but pray for peace and love anyway on the sweetly melodic closer "I See." Accompanied by ringing guitars, "If You Let It" and first single "Little By Little" take introspective turns, but they by no means brood. Instead these songs acknowledge the struggles of keeping on keepin' on with no small amount of pride. "I got there little by little," the pair harmonizes on "Little By Little," "Little by little I got all the way there."
Minor tweaks aside, A Thousand Turns doesn't constitute a major kind of departure from the brothers' previous work, nor does it need to be. The Delevantes' sound isn't a throwback to any era – with its song-oriented approach, unfussy presentation and production clarity, it's simply timeless.