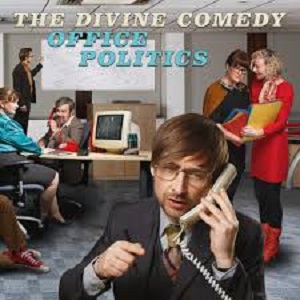 8 June 2019
The enjoyable theatrics and chamber pop excellence of The Divine Comedy returns, they are captivating with confidence on their latest, delightful long-player called Office Politics. A fun, conceptual dive into the atmosphere of the office workers scenario, given the usual tongue-in-cheek delivery by the soulful Neil Hannon. On this release, Hannon is on top form, no ageing or maturity but a more honed style of vocal acrobatics are more prevalent. Galvanized by the band who stretch themselves across the album adding themes, an experimentation of sound and a fearless nature to project the best structure of varied musical styles.
Office Politics follows up 2016's highly-acclaimed Foreverland, following on that same thread, and indeed ideas forged on that release. This epic sixteen-track offering sees Hannon divulge his influences including XTC and The Pet Shop Boys. Office Politics kicks off with the single "Queuejumper" (included below), not so much a return to form but more a push forward with ideas. All the dynamics that had made The Divine Comedy such a unique band, are in place if not a little more experimental.
"Infernal Machines" has a quality of Depeche Mode to it, a pounding song, one of the many standouts but displaying the wry-wit of Hannon's lyrics perfectly.. "You'll never work in this town again" is a baroque, soulful swing, Hannon soars throughout. From mellow cool to roof lifting transcendent heights effortlessly. A dive into funk and disco nostalgia courtesy of "The Life and Soul of the Party", it is a gospel tinged slice of joyous fun with humor and a satirical view of self belief. In a way a composition in the style of Giorgio Moroder meets Britpop.
Complimented by a return to their roots-sound in the calculated tell-tale of "Opportunity' Knox" and the chanting "Dark Days Are Here Again"(a personal favorite). But at this point, even though the theme of the album is prevalent throughout, stylishly however, it does not overpower the recording. The songs can be enjoyed regardless of any subtext injected into Office Politics.
In truth this is a great release, The Divine Comedy nail perfectly their social commentary and observations into an album which, on the surface may appear over long. In reality, it instead displays a varied sound of a band who are at the top of their game and clearly enjoying what they do.
Track List:
Queuejumper
Office Politics
Norman And Norma
Absolutely Obsolete
Infernal Machines
You'll Never Work In This Town Again
Psychological Evaluation
The Synthesiser Service Centre Super Summer Sale
The Life And Soul Of The Party
A Feather In Your Cap
I'm A Stanger Here
Dark Days Are Here Again
Philip And Steve's Furniture Removal Company
Opportunity' Knox
After The Lord Mayor's Show
When The Working Day Is Done