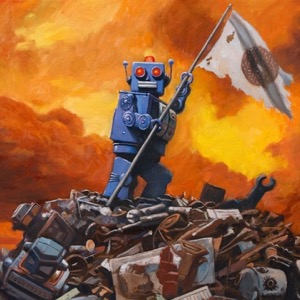 28 May 2021
Knoxville, TN singer, guitarist, bassist, and keyboardist Jared Colinger began The Enigmatic Foe with 2005's self-recorded The Titular Project; having since expanded to a full band, this is their fifth album, and first since 2015's Daughters & Daggers. Building on 2019's lustrous A Momentary Moth EP, the 14-song double LP benefits from taking a varied approach. It mixes leisurely, Church-like shoegaze ("Simulacrum," "It's Not Who You Are") with more propelling, Kitchens of Distinction/Real Estate dreampop ("The Kids Are Alright" – not the Who song – "That Would Be Fun," "Come and Go"), springy, vivacious, Go-Betweens/Smiths indie pop ("Ms. Fortune and Her Mate," "The Suffering Art," "Ninety-Nine Percent"), and even jazzy and disco-fied, horn-flecked soul ("Pavlovian Cement," featuring Phil Krawzack's jaunty saxophone). But behind Colinger and Josh Dooley's radiant, Johnny Marr-evoking guitar patterns, Frank Lenz's hearty, agile drumming, and Colinger's sincere, fervent voice, The Original Plan never bores.
"The Kids Are Alright"

The three well-chosen singles are also worthy pick-ups, thanks to six enticing, atypical non-LP b-sides. Three tender, full-bodied acoustic demos – "I Still Miss Someone" (not the Johnny Cash song), "Crisis," and "Lost Time" – are aromatic and lovely. As well, "Kids" contains a clomping, murky cover of Dooley's L.A. band Map's 2005 ethereal folk single "A Monk With a Gun," "Suffering" has the twangy, Haroula Rose-esque "Let's Be Sad," and "Ms. Fortune" offers the pastoral, Jew's harp-tinted "Damnation's Lullaby."
NOTE: "Suffering" EP out June 11; "Ms. Fortune" EP out July 9; LP out July 30.
Bandcamp | Facebook | Instagram | Twitter | YouTube