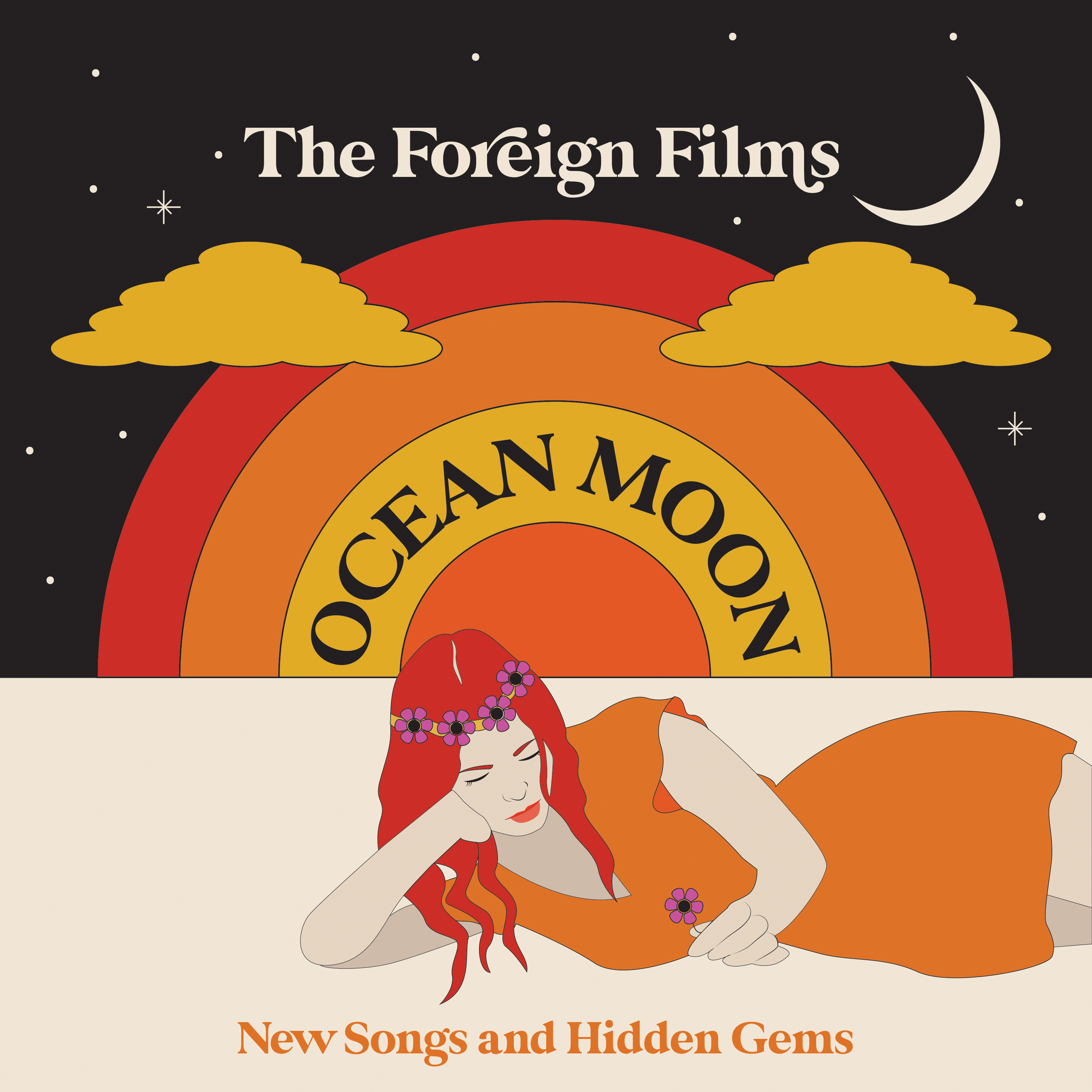 29 June 2020
When we last heard from the Foreign Films in 2018, the band and brainchild of Hamilton, Ontario's Bill Majoros had released an ambitious 3LP treasure trove called The Record Collector. The sprawling set celebrated the golden age of pop radio with hooks galore. The comparatively concise Ocean Moon find Majoros and his companions with plenty of gas in the tank. The album includes a half dozen new songs and three past gems presented with fresh sparkle.
"Dream with Me Tonight" is a fantasy of summer romance, transporting young lovers to an innocent and bygone era of jukeboxes and Ferris wheels. The song borrows a Beach Boys "ba ba ba" vocal hook and pairs it with "Strawberry Fields Forever" orchestration.
The roots of rock and roll echo through "Katie and the Crystal Hearts," pairing Carl Jennings' loping bass guitar with a bit of Buddy Holly twang and a "sha la la" vocal hook that bends Van Morrison toward the Kinks' "Waterloo Sunset." "I'll forever love you, said the song on the radio," sings Majoros in wistful melody.
Title track "Ocean Moon" borrows the shimmer and jangle of Full Moon Fever-era Tom Petty, crafting the mood for a song of blissful escape "to where spring forever blooms." The song's outro reflects the orchestral alt-pop grandeur of "The Killing Moon" from Echo and the Bunnymen's landmark Ocean Rain LP.
The chorus of "Birds in a Blue Sky" is stacked with lush vocals reminiscent of top practitioners like the Jayhawks and Fleetwood Mac and propelled by the taut snap of Majoros' punchy drum fills. "Down on the Boulevard/Pinball Kid" is pastiche pop on par with McCartney fare like "Band on the Run" or "Admiral Halsey/Uncle Albert." The piano-driven song begins with a cartwheeling melody a la "Live and Let Die" before borrowing bits from Mod-era Who and crocodile-rocking Elton John.
"Under Your Spell" unfolds a series of psychedelic pop vignettes, including a visit to Daniel David "who works the Department of Clouds." The song's cartwheeling vocal and carnivalesque tumble reflect classic singles like "Don't Go Breaking My Heart" and Leon Russell's "Tightrope." Rob Preuss (veteran of Canadian new wave band The Spoons) adds a dash of Stevie Wonder-styled clavinet.
A trio of songs are reimagined from prior versions heard on The Record Collector. "A Letter to Our Future Selves" becomes a chamber-pop mini-symphony sprinkled with the fairy dust of "Rocket Man" and "Eleanor Rigby." "Dream Another Dream" swings like Freddie Mercury's version of "The Great Pretender." "Stars in Her Eyes" strikes a heady balance between Revolver-era Beatles, Thunderclap Newman and Spiritualized, spiked by Scott Neilson's soulful saxophone and gliding atop Jennings' hypnotic bass line.
The album's crafty retro-pop confections are intended as companions for the summer season, and the album shines much-needed light in dark times. Ocean Moon is a heavenly body of song. (theforeignfilms.com)