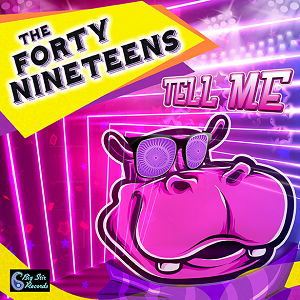 7 February 2020
February 14th is usually a celebration of love. That annual Valentine tradition of showing love for someone who puts up with you for the 364 days that came before. This year however, that date will mark something else, a time when you can download, listen and enjoy a song which won't give you grief for leaving a toilet seat up. 
The California-based tour-de-force The Forty Nineteens return to kick Cupid firmly into place. Presenting a download track which stutters, shimmers and sends a vibration of electricity through your earlobes to your brain. With a solid reminder of how excellent music did not stop in the last century. The Forty Nineteens are on untouchable, sonic machine, who are receiving acclaim from every angle for some time now. This piece of work -"Tell Me" b/w "It's For Fun (That's All We're Living For)", is the outfits first major release since 2017's rollicking Good Fortune, and it has been well worth the anxious wait. 
This digital download comes courtesy of the Big Stir Digital Single series. And they have hit the ground running with this one. Truthfully,  fans of proto-punk, garage rock, and good old power pop can dig their teeth into this and bask in the bang from their rattling woofers. "Tell Me" opens with a colossal barrage of drums, some sexy slide the catchy "na-na-na's". It is a wholesome blast of power pop mixed with a rockin' backdrop. The second digital cut "It's For Fun (That's All We're Living For)", is equally spirited and energetic anchored in the proto punk that erupted from Detroit half-a-century ago. With all the grace of a thundering V8 Mustang, firing on all cylinders and eating the oncoming highway. 
Simply put, 4019 means- 'time off for good behaviour', so, take this as your own personal hall pass this Valentine's and give yourself something you'll fall in love with. Hopefully this is the beginning of new material in 2020 for The Forty Nineteens, for now we have this slice of heaven to enjoy. 
The Forty Nineteens are; 
John Pozza: vocals 
Chuck Gorian: guitar 
Matt Colleran: guitar 
Kevin Barber: bass
Nick Zeigler: drums
For more info and to pre-order;
Facebook
Website