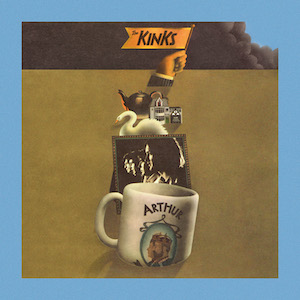 6 November 2019
The Kinks released so many standout albums in the second half of the '60s that it's impossible to declare any particular one the best, but 1969's Arthur or the Decline and Fall of the British Empire is clearly a high point. Coming on the heels of The Kinks Are the Village Green Preservation Society, a lovely celebration of old ways, Arthur might seem at first to be another wistful exercise in nostalgia. It isn't.
The impressive four-CD, 50th anniversary edition of this underrated masterpiece includes mono and stereo versions, plus a variety of alternate mixes, a disc of Dave Davies recordings that could have become a solo album, and a disc of odds and ends that's more worthwhile than it sounds. If that's not enough, there's also a host of extras to entice true obsessives: four vinyl singles, an informative book, posters and photos, and even a metal pin.
From the opening notes of the first track, "Victoria," Arthur just sounds different than previous Kinks efforts. The quartet's touch is lighter and livelier, perhaps due in part to John Dalton taking over bass duties from Pete Quaife, and leader Ray Davies' production is bright and engaging, in contrast to the more monochromatic textures of Village Green.
Originally intended as the soundtrack for a TV show that didn't happen, Arthur tells the story of a "plain simple man" who did his part for his country in World War II, was treated shabbily by the British class system and ultimately emigrated to Australia in search of a better life. Ray Davies' first full-fledged concept album offered him the opportunity to comment on all manner of unfairness in barbed terms. While the charming "Drivin'" could have been a Village Green track, "Yes Sir, No Sir" ("Permission to speak sir/Permission to breathe sir") and "Brainwashed" ("To them you're just a speck of dirt") reflect the anger that underpins the gentlest tracks.
Arthur also features "Some Mother's Son," one of the saddest rock'n'roll songs ever written. Eschewing histrionics, this melancholy ballad makes a devastating antiwar statement through an understated account of battlefield carnage and its impact on those left behind, noting gently, "While all the mothers stand and wait/Some mother's son ain't coming home today."
The Dave Davies songs, all of which have trickled out on previous reissues over the years, date from the same era as Arthur and are the product of a tentative plan to launch Ray's younger brother as a solo artist. Although that didn't come to pass, some terrific stuff resulted, including the jaunty "Lincoln County," the mournful "Hold My Hand" and the rousing "Mindless Child of Motherhood," later to become the B-side of the Kinks' 1970 comeback hit, "Lola."
If the final disc feels like a hodgepodge, it's a fascinating one. Along with new mixes of key Arthur tracks, it contains intriguing home demos, music Ray Davies wrote for the 1969 feature film "The Virgin Soldiers" and tantalizing new recordings, featuring Davies and other singers, of previously unheard songs that come from a new incarnation of Arthur's tale that he's been working on.
A riveting mixture of anger and empathy, devised by a genius, Arthur or the Decline and Fall of the British Empire is too bleak to be "fun," for all its memorable, sometimes exuberant, music. But this stellar set is a fitting commemoration of an album that still bristles with outraged intelligence a half-century later.