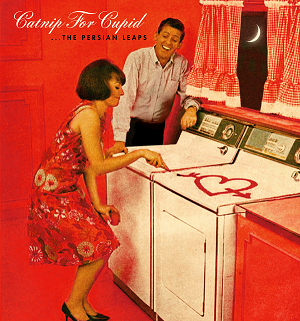 26 September 2019
The Los Angeles based Big Stir Records continue their release of exclusive digital singles this coming Friday (September 27) with something rather special. An absolute thriller from The Persian Leaps titled "Catnip For Cupid". Following on from The Leaps 2018 anthology which collected their past five earworm-drenched Ep releases, Pop Goes Crunch, the outfit has continued their work on a new album. This track "Catnip For Cupid", is a cut taken from that upcoming long-player Electrical Living (due October 4), and excitement is already rife for new midwestern moments of greatness. 
After retiring to the studio since last year to work exclusively on The Persian Leaps sound. The experimentation of leader Drew Forsberg, along with musician and designer Jon Hunt, have upped the ante on "Catnip For Cupid", two-minutes of stupendous power-pop with loud guitar, drums, rich harmonies, and those unique lyrics which are a trademark of the outfit. For the first time keyboards have appeared to expand the alternative rock foundation, creating extra depth without taking away from the foundations that make The Persian Leaps so authentically good. 
Of course with the single comes the 'B' side, here it is the track "Sweet Nothings", an urgent blast of indie rock again taken from the Electrical Living which gives a wider sense of what direction The Leaps are heading. It is fair to say whereas, the collection Pop Goes Crunch closed a chapter and celebrated the first part of the bands career, in turn "Catnip For Cupid" heralds the start of the next chapter, opening the door for Electrical Living and the further adventures of The Persian Leaps.
To Download And Hear The Single "Catnip For Cupid"; 
Website
For More On The Persian Leaps; 
Bandcamp
Facebook
Twitter