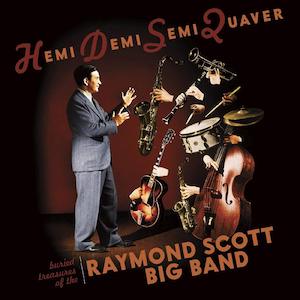 12 October 2020
A true American original, the remarkable Raymond Scott (1908-1994) wore many musical hats during his brilliant career. In the '30s, he led The Raymond Scott Quintette (in reality a sextet), a nimble, jazz-adjacent combo that played such exhilarating songs as the manic "Powerhouse," later heard in a host of Looney Tunes cartoons, as well as the "Ren and Stimpy" show. In the '50s and '60s, he was an electronic music pioneer, inventing all manner of oddball devices and making recordings that anticipated ambient music.
In between, he led The Raymond Scott Big Band. Formed in 1942, it was the first racially mixed network radio orchestra and featured such jazz greats as saxophonist Ben Webster and drummer Cozy Cole. Though more traditional than his most revolutionary ventures, this deft ensemble could swing as well as Benny Goodman or Artie Shaw, and with more humor. The charming Hemidemisemiquaver collects 26 exuberant tracks by this rollicking crew, including the fizzy "Eight Letters in My Mailbox" and "37th Secret," which bears more than a slight trace of Scott's wonderfully wacky sensibility.
Any fresh Raymond Scott is welcome, and Hemidemisemiquaver will fire up your tired circuits better than a strong cup of coffee.