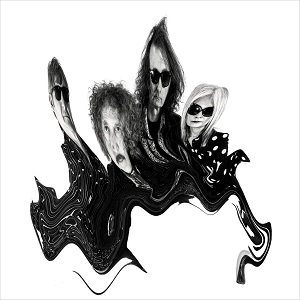 11 June 2021
When Australia's Scientists reunited for wildly received tours and performances in support of their massive 2016 boxed retrospective A Place Called Bad, a new record seemed inevitable. And here it is: Negativity, the first album featuring the Weird Love lineup of guitarist Tony Thewlis, bassist Boris Sudjovic, drummer Leanne Cowie and bandleader Kim Salmon since 1986. The band could've easily rested on its laurels, recycling its past noisemaking (as it did on the singles released around those tours, which resurrected unrecorded songs from that era) and coasting on its fearsome live reputation.
Fortunately, that's not how it went. With over three decades since the last Scientists record, Salmon and company understand that they can't simply shift back to the eighties and call it a day. While the quartet's roots – the Cramps, the Velvets, the Stooges, Suicide – still ground these eleven songs, there's been an evolution in its attack. Salmon's writing has grown looser, more experimental, and more improvisational over the past twenty-odd years – cf. last year's Surrealists LP Rantings From the Book of Swamp – and he applies that mindset here. "Outsider," "Outerspace Boogie" and "Make It Go Away" sound like Salmon brought in sketches for the players to fill out during not only rehearsal, but recording. In the spirit of an expert jazz band, the Scientists take minimalist song structures and turn them into rambling, roaring nuggets of rock & roll, with Salmon as the ranting and raving ringleader.
This approach means that anyone looking for instant classics like "Swampland" or "Set It On Fire" – let alone poppier tunes like "Frantic Romantic" – may be disappointed at first. There are a few tracks that evoke the mantraesque riff rock of old – "Seventeen," "Moth-Eaten Velvet" and "I Wasn't Good at Picking Friends" are probably the closest things. But this is a band more interested in moving forward than back, and if you let Negativiy pull you into the Scientists' unhinged world, you'll find yourself far more comfortable there than you think.