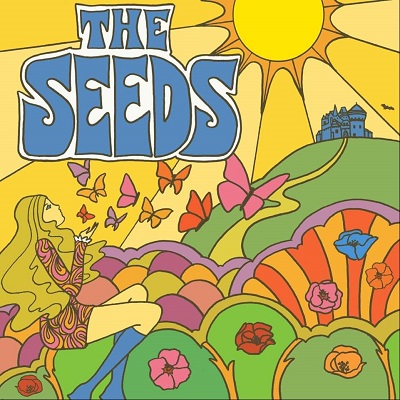 31 October 2020
This is the sound of iconic Garage Rock, something to wrap us in a web of sound. The Seeds need little introduction, for those novice music fans, their story began in 1965. A Los Angeles based outfit, which became a stable must-see live act, and released some of the finest Californian music of the mid-sixties. With singles such as "Can't Seem to Make You Mine", the breakthrough hit "Pushin' Too Hard" and long-player's such as their self-titled debut and Web Of Sound. Along with this however is the influence the band had, and remain to have. Influencing the bulk of the Punk, seventies movement, including the Ramones, Johnny Thunders, and even Garbage. 
While some of the core group have passed, the legends Sky Saxon, Rick Andridge, and more recently Jan Savage, the mission statement and indeed sound remains very much intact. This 21st Century lineup features original members Daryl Hooper (keys, guitar), and Alec Palao (bass/producer), galvanised by Justin Smith (drums), Marc Bellgraph (guitar), while adding the extra energy of Paul Kopf (lead vocals). Together the legend of The Seeds continues, and they still record some respectful releases which sit beside some of their finest recordings. An example of this saw light in August this year with "Butterfly Child", which forms the flipside to their current release. 

For this single however, with the season that's in it, and certainly the surrealistic year, new music from The Seeds is what is painfully required. And here it is. "Vampire" is a nostalgic, reverb soaked slice of brilliance. A psychedelic sound pulled directly from the Summer Of Love and transfixed in this 2020 stratosphere. All the elements that form that legendary sound are very much alive, and breathing with new life. From the trippy opening, the swell of harmonies and the slick, stylish movement of jangled chords, all coming together to form a much needed escapism. The clever guitar solo slices through the atmospheric tone set by those keyboard flourishes, and really the listener is immediately hooked to what is a fantastic piece of music. 

The hope here, and the reality is that this release is pointing to the more extensive, and exciting prospect of a full album. All the dynamics are there to create something spectacular, and really the stage is set. For the meantime "Vampire" is a short, sharp cracker that aches to be heard. 
For More Info:
Facebook
Website
Bandcamp