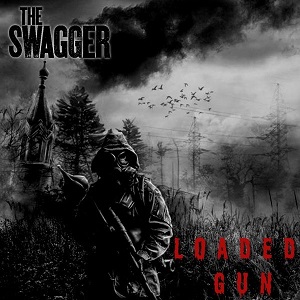 22 June 2020
The London-based outfit The Swagger release a new single titled "Loaded Gun". Following up last year's "Chin Up Boy", this is a band that has one foot in old-school Britpop and one foot in the future. The attitude is relentlessly authentic, without any pretentious idealism. Although nine years into their career, The Swagger are surfacing with experience under the belt, and what looks to be some savage, original tunes in their repertoire. 
Last year's aforementioned "Chin Up Boy" sparkled with a power pop base, and chiming, melodic guitar. Now though, with "Loaded Gun" they have built an assaulting wall of sound. With an atmospheric, rolling guitar line, before the pin is pulled on their artistic grenade, and creating an exceptional sound. The cascade of crunching, grime riffing by Paul Stevens dominates, while brother, vocalist Lee Stevens, spews some classy lyrics, designed midway between Manchester and London Town. 

The song as a whole is a hook, a tumbling piece of addictive music. Created by a band of talented, well-honed musicians. With a debut album looming post-lockdown, The Swagger are a band to watch, and one that lives up to their name. 
For More On The Swagger; 
Facebook
Twitter
The previous "Chin Up Boy";