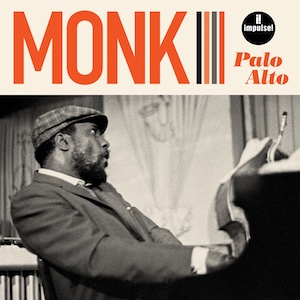 18 September 2020
On Oct. 27, 1968, in the middle of a three-week club engagement in San Francisco, piano genius Thelonious Monk and his band staged an unlikely concert at Palo Alto High School. Captured on tape by a school janitor, this sparkling performance went unreleased until now.
While there are numerous live Monk shows available to savor already, Palo Alto makes a welcome addition to the canon. The sound of the recording is bright and clear – offering no hint of its unofficial origin – while the musicians are in fine, playful form. Highlights of the six-song, 48-minute set include such Monk staples as the leisurely "Ruby, My Dear," a jaunty "Well, You Needn't" and the spunky "Blue Monk." Always a generous collaborator, he gives plenty of space to his longtime tenor saxophonist, the commanding Charlie Rouse, who adds bracing urgency to Monk's crystal notes, and allows the light-footed rhythm section of bassist Larry Gales and drummer Ben Riley ample opportunities to shine.
To the uninitiated, the idiosyncratic Monk can seem too odd, but his alleged eccentricity is a myth, as Palo Alto demonstrates. His elegant way of playing around a melody rather than attacking it directly adds a warm, engaging quality to the music, making this a solid introduction to his work. Confirmed fans, able to bask once again in the glow of Monk's unique brilliance, will need no convincing.