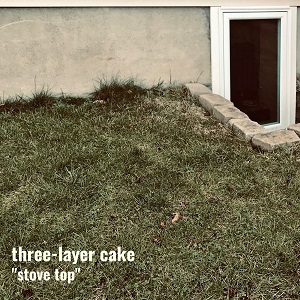 14 May 2021
Go just a few seconds into Stove Top, the debut album from new trio Three-Layer Cake, and you'll think you've got it sussed. Three guys – in this case, rising avant-garde guitarist and banjoist Brandon Seabrook, experimental drummer Mike Pride, and bassist Mike Watt, veteran of the eighties punk rock wars and low-ender in a few bands adventurous music lovers may have heard of – arrive at the studio and spontaneously combust. You'd be slightly off, though. Due to the pandemic, each musician recorded his parts separately, with files generated by Pride going first to Watt, and then to Seabrook.
Despite the long distance nature of this collaboration, the band manages a high degree of spontaneity. Take "A Durable Quest." Over a busy track of skittering drums and vibraphone punctuations, Watt lays down a groove, like he set up the track in his home recording environment and just started jamming along. Seabrook's volume swells and staccato squeals sound equally improvised, as if he too hit "play" and "record" and just did what he felt. Watt's dub bass defines "Primary Fuel," adding a deep throb to Pride's metallic drums and percussion accents, while Seabrook wanders over his fretboard like a caffeinated puppy. "Beatified, Bedraggled and Bombed" features a roiling rhythm track that sounds for all the world like Watt and Pride looked each other in the eyes and locked in, while Seabrook makes like Buckethead doing speed licks, but on a banjo. "Tiller" wanders about like exploratory jazz, with Sebrook's banjo and Pride's vibes jumping moods and tempos over Watt's grinding fuzz bass. "Luminous Range – Anxious Valve" has a particular case of attention deficit disorder, shifting from free jazz to avant-funk to completely free playing without warning. The appropriately-titled "Big Burner" just blasts away, all skronky riffs and backbeat.
It should be obvious to anyone familiar with these musicians, but Stove Top proves it's possible to keep the improvisational spirit alive, even when no one is recording at the same time or in the same room. No pandemic can threaten Three-Layer Cake's freaky fun.