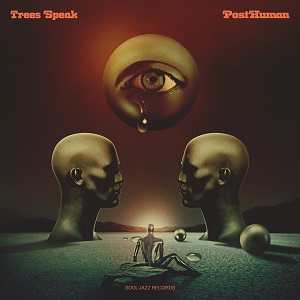 21 May 2021
Clearly, Daniel Martin Diaz and Damian Diaz don't believe in resting on their laurels – PostHuman is the Tucson duo's third LP as Trees Speak in the last year. (Guess the pandemic was good for something, if only for creatives.) The LP-plus-bonus-7-inch continues the good work of past albums, blending motorik beats, brooding kosmiche electronics and sun-blasted desert landscapes – think Tangerine Dream if they'd come from the American Southwest.
Analog synthscapes like "Amnesia Transmitter," "Incandescent Sun" and the title track bump up against more organic constructs like "Healing Rods" and "Quantize Humanize." "Elements of Matter" imagines spaghetti western soundtracks as German electronica, while "X Zeit" and "Steckdose" ooze organic/electronic psych like Hal 9000 dropping acid. This time out the band injects a healthy dose of New York jazz into their sound – check out the skronking sax on "Chamber of Frequencies," or the swinging drums/vibraphone pulse in "Divided Light." Meanwhile, the old-fashioned "Glass" just blasts down the autobahn in a haze of synths and guitars.
As in the past, the music on the bonus 45 sounds like it would have fit just fine aesthetically, and was probably shifted to its own medium for reasons of space (as in our three-dimensional realm of existence, not the offworld expanse full of stars and asteroids). A-side "Hidden Machine" slathers a bass/drum groove with killer-robot-awakes electronica, while the B-side "Machine Vision" combines a traditionalist motorik rhythm with dissonant synth burbles and miscellaneous non-machine generated sounds.
Three albums seems like a lot in a mere twelve months, but as long as Trees Speak maintains its current high standards of quality, there's no reason not to look forward to three more in the next twelve.