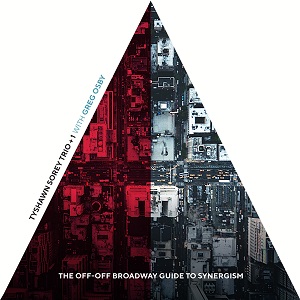 2 November 2022
Tyshawn Sorey is one of the most heavily feted musicians in jazz – indeed, in American music – not only for his ability as a drummer, but also his depth and range as a composer. Which makes it interesting that his latest album The Off-Off Broadway Guide to Synergism is a collection of standards, and one following hot on the heels of Mesmerism, a similar collection released earlier this year.
Joined not only by his regular sidemen Aaron Diehl on piano and Russell Hall on bass, but by veteran saxophonist Greg Osby, Sorey takes on three disks' worth of classic jazz and pop songs, plus Osby's "Please Stand By." The bandleader casts a wide net here, drawing not only from the Great American Songbook and writers like Cole Porter, Billy Strayhorn and Jimmy Van Heusen, but also classic jazz composers like Thelonious Monk, McCoy Tyner, Fats Waller, Miles Davis, Ornette Coleman, and even the great Andrew Hill. With impassioned but impeccably tasteful playing, Sorey gives his musicians room to move – many of these tracks stretch out over ten minutes, even over fifteen, and never flag in interest. Osby is in particularly excellent form here, spinning off dozens of ideas with seemingly unstoppable energy.
As on Mesmerism, the Sorey Trio isn't rewriting the rulebook on how to treat a standard – this isn't a free jazz teardown and rebuild of classic songs. But the creativity flowing from these players' fingertips does mean that the versions of "Night and Day," "It Could Happen to You," "Ask Me Now" and "Solar" keep their familiarity without sounding like any version that's come before. The Off-Off Broadway Guide to Synergism is a masterful piece of work that reminds us that great composers still draw nourishment from their inspirations.