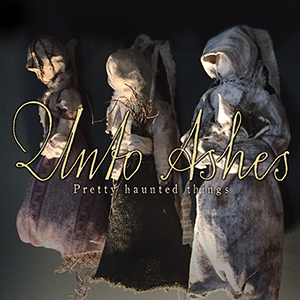 2 July 2019
For the two decades of its existence, enigmatic act Unto Ashes has expertly combined medieval and exotic folk musics with modern gothic sensibilities for a series of extremely distinctive albums that appeal to more than just goths. For the first UA album in five years – and first of original material in seven – bandleader Michael Laird shows just how much his artistry has evolved in that time. Pretty haunted things doesn't fit easily under any genre's banner.
Joined here by Audra guitarist Bret Helm and longtime co-vocalist Ericah Hagle, Laird curates a program of melancholy ballads and mini-anthems that pay tribute to grief, romance and altered states of being. Acoustic guitars form the core of the carefully crafted arrangements, but more exotic instruments add color and style. With reserved performances, the trio focuses tracks with seemingly mundane titles like "I'm Too High," "Don't Ask Me If I'm Crazy" and "I'm Living in a Coma" into laser beams of emotional resonance. Laird is also bold enough to set libretto from the worlds of Edgar Allen Poe ("Alone") and Emily Brontë ("Fall Leaves Fall") to music without pretentious overreach. The band transforms the Gary Numan tune "My Dying Machine" into an Arabic goth/folk rocker that makes it hard to remember the original.
While still primarily acoustic, to identify Pretty haunted things as the same blend of gothic rock and folk as previous platters would be misleading. At this point, Laird has absorbed and recalibrated his influences so well that his work sounds like it could have come from no one but himself.