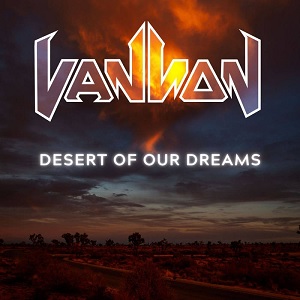 14 January 2022
Desert of Our Dreams is the first full-length album by Oakland, California's doom metal group Vannon, and conceptually it is a twisted, unflinching retelling of the Book of Exodus. Recorded with the band feeling like the world may end at any moment, there is a strong feeling of carefree abandon and that anything goes with this album. It's a thunderous, unrelenting force that pushes constantly forward at full speed, and never pauses once to look back. In an album that is completely free of filler, it is immediately clear that the band has put everything into creating something truly memorable.
"Two Snakes" eventually slows down to a sinister crawl, but for the most part it is a high octane thrill ride. There are plenty of dramatic theatrics here from the almost operatic "The First and Last," showing influences of Soundgarden, to the acoustic sludge of "Above the Stars" which adds touches of folk and world music for a fantastic counterpoint. The crowning achievement here, however, is the twelve minute finale "I Come To Destroy" which is an epic in the grandest sense imaginable, and its gut-wrenching emotions will leave the listener breathless.
The world may not have ended, yet, but if the events of the last few years have fueled the inspiration of bands like Vannon, then at least we can be thankful for a work of art this powerful.