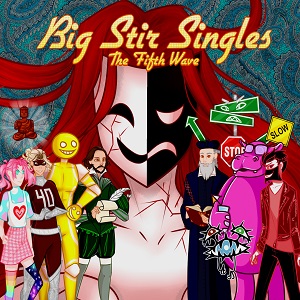 11 March 2020
These sort of compilation/samplers are the first handshake between audiences and artists who are ripe for discovery. Hot on the heels of last years Fourth Wave release comes the latest from the Big Stir camp, The Fifth Wave singles collection. Twenty-two incendiary, addictive tracks from the labels Digital Singles Series, and indeed the quality is keeping with that high-par of excellence present on past releases. Of course these sampler style outings are an old school approach at highlighting artists. Which makes this sort of release both admiral and unselfish, along with combining separate labels such as Kool Kat Musik, SpyderPop Records, Karma Frog Music and Futureman Records.
One outfit appearing on this release are the UK's The Speed Of Sound. The band appear twice, giving a blistering double header with "I See You" and an acoustic version of "Seen It All Before". John Armstrong, from The Speed Of Sound had this to say about the compilation's importance;  "Yes it is important. It does spread the word far and wide more than any independent bands can reach on their own, but it also demonstrates the depth of music that exists away from the major labels it is important to push the whole (for want of a better word) 'scene' than a single band. We're stronger together. Some compilations achieve that better than others, this is one of them as community is a fundamental part of the Big Stir ethos. we're proud to be on this alongside the other artists." 
Similarly, Tor Guides had this to say- "I think samplers like this one is a win-win for the label and the artist, it certainly raises interest in the artists and is a cost-effective product for the label. So I think it's good, a modern version of the old mix tapes."
The quality kicks in from the first click of play. The GoAllTheWays start proceedings with a cover of The Descendents "Silly Girl". This supercharged supergroup consisting of Jeff Whalen (Tsar, The Brothers Steve), Rex Broome (The Armoires who also appear), Tyson Cornell (Rare Bird Lit), Marko DeSantis (Sugarcult), and Steve Coulter. The outfit also deliver a solid, passionate version of The Pink Lincolns "Tourist". 

The
Morning Line
bring two versions of their synth effervescent and explosive "Nostradamus". Whilst the rock steady beat of
Mod Hippie
bring two stylish bangers with "Shimmering Sound" and "Saturday Show". 
The remarkable wave of uplifting pop from
Blaine Campbell
erupts within "Happy Faces".
The
Forty-Nineteens
return hit "Tell Me" is a lovingly crafted piece of power pop. A track which stutters, shimmers and sends a vibration of electricity from your earlobes to your brain. With a solid reminder of how excellent music did not stop in the last century.
This is a solid piece of work as compilations go, and audiences can look forward to further waves from the Big Stir family. 
Tracklist;
THE A-SIDES: 
1) The GoAllTheWays: Silly Girl 
2) Mod Hippie: Saturday Show
3) The Speed Of Sound: I See You 
4) The Stillsouls: Does My Love For You Come From Shakespeare Too 
5) Blaine Campbell: Happy Faces 
6) The Tor Guides: Just A Smile 
7) Lannie Flowers: My Street (North Florida Version) 
8) It's Karma It's Cool: Wooden Buddha 
9) The Morning Line: Nostradamus 
10) The Armoires: Pushing Forty 
11) The Forty Nineteens: Tell Me 
THE B-SIDES: 
12) The GoAllTheWays: Tourist 
13) Mod Hippie: Shimmering Sound 
14) The Speed Of Sound: Seen It All Before
15) The Stillsouls: Old Guitars Are Ghosts On The Sunset Strip 
16) Blaine Campbell: Movin' On 
17) The Tor Guides: Make You Mine 
18) Lannie Flowers: Summer Blue 
19) It's Karma It's Cool: Ghosts of Rome
20) The Morning Line: Nostradamus (Remix) 21) The Armoires: Shame And Bourbon 
22) It's For Fun (That's All We're Living For)
More Info;
Website
Facebook
Twitter