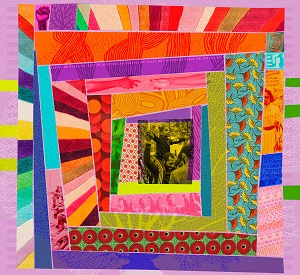 25 March 2022
It's almost unbearably sad that a collection like this has to exist. Not just a compilation and collaboration featuring an international cast of musicians interpreting the black jazz tradition, Black Lives: From Generation to Generation is also a statement about racism, its continuing prevalence and impact on twenty-first century Earth, and what to do to combat it. The aggressive rise in openly expressed prejudice in the last several years (arguably the last couple of decades) requires an equally aggressive response, one most directly fought in the courts and in changing the faces that run governments. But culture is also one of the most important weapons a diaspora has in the war for equality and acceptance – an accurate and engaging display not only draws people in, but also proves the ongoing relevance of points of view, as well as simply reminding skeptics and opponents that the production of art that moves and shakes the world doesn't revolve around skin color or life practice.
Compiled by Jammin'colorS head Stefany Calembert and her husband Reggie Washington, a veteran jazz bassist, Black Lives gathers musicians from all over the world to contribute pieces on the theme of racism, with complete freedom on how that subject is addressed. Saxist-of-the-moment Immanuel Wilkins responds with a pair of tracks: the intensely beautiful "Praying" and the much more agitated "Dancing." Assisted by singer Christie Dashiell, trumpeter Marcus Strickland brings his modern sensibilities, grounded as much in hip-hop and R&B as jazz, to bear on the politically charged "Matter," while his drummer brother E.J. lays down the law on the masterful modern jazz piece "Language of the Unheard," which also features Wilkins and vibraphone wunderkind Joel Ross. Guitarist David Gilmore (Lost Tribe, Steve Coleman, Christian McBride) and his drummer brother Marque team with spoken word artist Shariff Simmons for the timely reminder of "We Are Here," while fellow six-stringer Marvin Sewell – the secret weapon on many a modern jazz joint, including Wilkins' tracks on this collection – recounts "A Hero's Journey" solo on a resonator guitar. Avant saxophone master Oliver Lake attacks the coroner's George Floyd report using his voice instead of his horn on the acerbic "Pre-Existing Conditions," aided by Washington and DJ Grazzhoppa. The bassist himself weighs in with singer/writer Alicia Hall Moran and Grazzhoppa on the avant-garde but affecting "Walk."
Though those folks provide the biggest names, they don't get pride of place – everyone contributes equally. Pianist Andy Milne, best known for his work with Steve Coleman and Ralph Alessi, teams with singer Georgi Heers, spoken word artist Kokayi and trombonist Zekkeraya El Maghabel for the ethereal but forthright "Togged to the Bricks." Guadeloupean gwo ka sax player Jacques Schwarz-Bart finds himself "Dreaming of Freedom," while his singing wife Stephanie McKay gets more direct with the funky "Phenomenon" and as featured vocalist on Togo/Benin drummer Yul's Afrofunk showcase "Higher." Singer/guitarist Adam Falcon really goes for the jugular on the funky blues rocking protest song "Colored Man Singin' the Blues!," while trumpeter Jeremy Pelt relies on faith for the dreamy, electronica-spiced "Anthem For a Better Tomorrow." Martinique keyboardist Grégory Privat brings a similarly positive vibe to the lush "Friendship," which South African singer Tute Puoane leavens with the soft but stinging "From the Outside In." Oliver Lake's drumming son Gene gets seriously funky on "Back & Forth," featuring ripping keyboardist Federico Gonzalez Peña. Guadeloupe drummer Sonny Troupé features guitarist Ralph Lavital on the magnificent two-part "Sa Nou Yé/Be Proud," which starts as a mellow guitar ballad before morphing into groovy Afrojazz. Malian bandleader Cheick Tidiane Seck opens the entire collection with the uplifting "Sanga Bô."
The album ends with the musically cosmopolitan "Masters of Mud (Shape Shifting)" from guitarist Jean-Paul Bourelly, a genre-fluid guitarist who has long spread the gospel of American black music (jazz, blues, funk, rock) across the European continent, and Opus Akoben rapper Sub Zero – artists who represent the breadth of musical and cultural experience pulled into this project's orbit. Though the variety of approaches on these two disks demonstrates the wide range of philosophy and artistic accession, it's all created with similar thematic goals. Thus Black Lives serves not only as a sampler of contemporary black jazz thought, but as a unified statement that the Black lives of the title matter, and that, while we may have musical unity, in the corporeal world we've still got a long way to go.