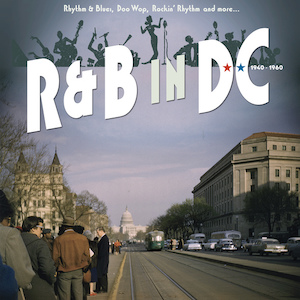 23 September 2021
Vault archaeology doesn't get any better than this. Offering 472 tracks on 16 discs, plus a massive hardcover book stuffed with fascinating details, R&B in D.C. (1940-1960) delivers what its title promises, documenting so many roots and branches of the musical scene in the nation's capital that it's easy to feel overwhelmed by this massive, beautifully executed project. But don't be intimidated. Dive in anywhere to discover exciting performers, from a handful of stars to scads of lesser-knowns, and note the surprisingly good sound, despite many songs being dubbed from disc in the absence of master tapes.
Among the bigger names: Don Covay, a great writer (best known for composing Aretha's "Chain of Fools") and fiery singer, who early on recorded under his own name and as Pretty Boy, delivering a fine Little Richard impression; eccentric vocalist Billy Stewart (later to score with a manic version of "Summertime"), an associate of Bo Diddley; Atlantic Records superstars The Clovers, whose hits included "One Mint Julep" and "Love Potion No. 9"; Marvin Gaye (originally Marvin Gay), appearing on a 1957 single by The Marquees; and commanding New Orleans shouter Lloyd Price, based in D.C. when he recorded the hit "Just Because."
Plenty of other artists merit a spin, such as: Baby Dee, a thrilling chanteuse in the mode of Ruth Brown or LaVern Baker; honking and screaming sax men Frank Culley, Paul Williams and Hal Singer; The Eagles (not those California dudes), the fervent vocal combo who cut "Tryin' to Get to You" before Elvis did; the passionate, doo wop-inflected crooner Sam Hawkins; zany extrovert Pat Patterson; and the high-voltage drummer and bandleader TNT Tribble.
The German reissue label Bear Family has a long history of ambitious archival projects, including a stellar 2019 set devoted to Bakersfield country music, and R&B in D.C. (1940-1960) is one of its best. None of the would-be American idols heard here could have envisioned having their largely unheralded efforts commemorated in this thoughtful way, but it's nice to celebrate them, however belatedly. Pick any disc at random and prepare to party.