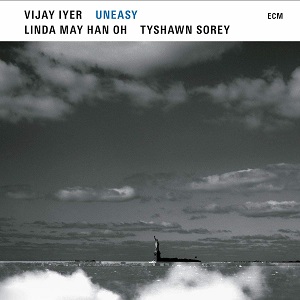 13 April 2021
The recipient of a 2013 MacArthur Fellowship (the so-called "genius grant"), pianist Vijay Iyer has never shied away from ambitious projects. Originally conceived for a 2011 dance piece, UnEasy encompasses tunes written or adopted over the course of twenty years, now coalesced as commentary on the past few years' political turmoil. Joined by fellow jazz geniuses Linda May Han Oh on bass and Tyshawn Sorey on drums (who also plays with Iyer in Fieldwork), the New York native paints vivid canvases that draw on multiple iterations of jazz without overtly paying homage to any single one.
"Combat Breathing" gives the musicians a swirling framework in which to wander, as Oh contributes a probing, introspective solo and Iyer lays down lines that seem to crossbreed McCoy Tyner and Don Pullen with his own arable imagination. The equally melodic "Children of Flint" features tightly knit ensemble work on a tune that, true to the album's title, injects a sense of worry into the playing – the only way to handle a piece inspired by the terrible trials of the titular Michigan city's populace. The bluesy "Touba," co-written by Iyer's occasional collaborator Mike Ladd, adds a driving determination to the threesome's explorations, while the tense-but-frisky "Configurations" twists an already twisted tango into a brand new shape. The groovy interwoven instrumental lines of the high energy title track make it a standout in a series of superlative performances.
The trio also makes a pair of covers their own, via a tumbling take on late pianist Geri Allen's "Drummer Song" and a spectacular version of Cole Porter's "Night and Day." How exactly they fit into the vision is left for the listener to decide. Indeed, fans can draw their own conclusions pertaining to the set's thematic reach, but only the tin-eared or hard-hearted could resist the impressive, expansive musical delights on UnEasy.