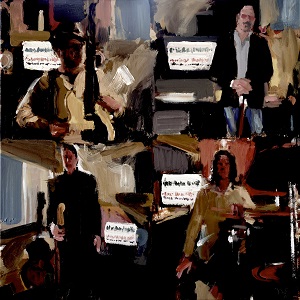 6 July 2021
Philadelphia quartet Wanderlust put out its lone album Prize in 1995 on RCA – right as the alternative rock bubble that had dominated rock the past five years was about to burst. The record got lost in the shuffle, and bandleaders Scot Sax and Rob Bonfiglio went on to careers as songwriters, filmmakers, sessioneers, and solo artists. When Sax discovered an old tape full of demos for the band's never-realized second album, however, he got back in touch with the old gang, wrote some new songs to accompany the old ones, and Wanderlust was born again on long-delayed second album All a View.
Like a lot of members of the early nineties alternarock nation, Wanderlust was and is a power pop band at heart. "Black Currant Jam," for example, updates British invasion pop rock for the postpunk era, with louder, more effects-driven guitars overlaying a tasty melody. "Trick of the Light" and "I Can Be Moved" further add jolts of rock energy to singalong melodies, not unlike prime Posies or Sloan, while "Critical Mind" adds a soupçon of blues balladry to the proceedings for further variety. "Bored and Blue" and "Something Happens" sparkle up folk rock with the kind of jangle that's practically Pavlovian to guitar pop fans. A real standout on an album full of cool tracks, "2 Million Pieces" puts an absolutely winsome tune atop a canned electronic drum rhythm and frosts it with massed harmonies straight out of the Raspberries handbook, easing the sharpness of the cutting lyric "No one takes the blame for you – not even Jesus" just enough to sugar its bitterness.
Though eclectic under the surface, the tracks all benefit from the songcraft learned from studying the best work of the Lennon-McCartneys, Badfingers, and Big Stars of the world. It's a well-traveled road, but still a very interesting one in the hands of seasoned practitioners, as this band is. The record ends with a jangling midtempo rocker entitled "Inspiration" – an apt closer, since that's exactly what Wanderlust seems to have found on All a View.