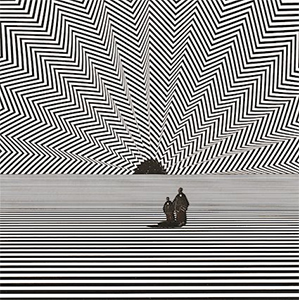 30 April 2021
Without question, there have been countless projects unexpectedly delayed because of the pandemic, and Hello Morning, the debut album of Bay Area duo Wax Moon, is no exception. Regardless of the interruption, however, the album was three years in the making; a concerted indie folk effort between John Blatchford and Paul Kimball recorded sparsely in the former's garage as they moved away sonically from their previous bands and crafted something rawer and more pared-down. In the songs one can hear a clear influence from the best of Simon and Garfunkel and Crosby, Stills, and Nash, when the emphasis was on the harmonies above all.
For the most part, the instrumentation is limited to acoustic guitars and bass, while incidental violins, banjo, keyboards, and even the clarinet add austere counterpoint in the manner of the work of Nick Drake and Leonard Cohen. Some violin and dobro add some light country touches to "Mountain Road Girl," and the same instruments create a wonderfully wistful and somewhat bittersweet atmosphere on "In Control." This leaves nowhere for the vocals to hide or get buried in the mix, but thankfully the pair accompany each other beautifully, and this unplugged, restrained ethos makes the electronic flourishes of "I Wanna Believe You" all the more pleasantly surprising.
Hello Morning might have been a long time coming, but Wax Moon have created a startlingly powerful album that shows the fruits of their labor without ever showing off.