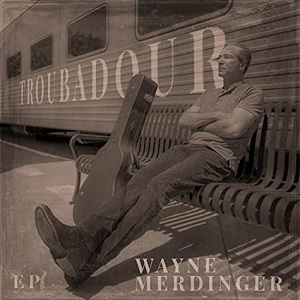 28 June 2022
Scottsdale singer-songwriter Wayne Merdinger's newest EP Troubadour is, perhaps, his most clearly personal work yet, and although the six songs all have a classic rock sheen reminiscent of the Eagles or America, the focus here is truly on the sensitivity and depth of emotion in his lyricism. A somewhat prolific musician, Merdinger has released this EP after three albums since 2016, and Troubadour represents the culmination up until this point of his growth as a musician ever since his children convinced him to start recording.
Two of the songs here have a special connection to Merdinger's past. "Nebraska Bay" is titled after a band of the same name that he became friends with in his youth, a group that almost became big but never did, and "The Train Song (I Saw You)" is a reconstruction of one of their songs that Merdinger remembered. Nostalgia is everywhere here, then, but the present is just as strong in his mind as "It's Gonna Be Okay" is about his own experience as a father whose children grow up.
Merdinger's lifelong connection to these songs is immediate, making Troubadour a statement that is both a personal journey for the artist as well as representative of the story of American music since the 60s.