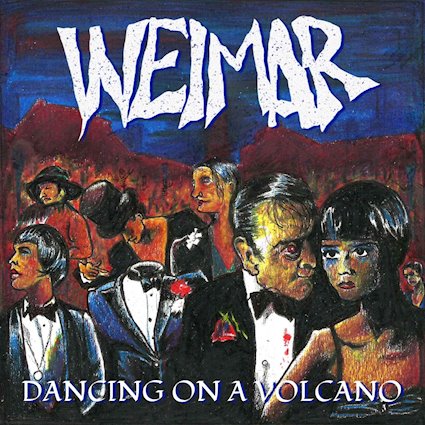 27 July 2022
After sparse and ominous drumbeats tattoo us in, we are greeted by the recent single "Soho Rain" and what a great way to start that is, a slow-burning musical build from almost spoken word to melancholic and gratuitous sax (geddit?) as we wander around the steamier corners of London's West End with the narrator as our guide.
From here it goes…well anywhere it wants and everywhere it chooses! "The Sociopath" is post-punk mariachi pop, "The Hangers On" plays with Pulp -esque dynamics and Jarvisian lyricism and "Hunter's Moon" is a slow Stygian waltz; grim, gothic and glorious.
Weimar has clearly thrown away the rulebook if they ever had one, to begin with, and they make music without any acknowledgement of fad or fashion. Nothing could be further from their mind and Dancing On A Volcano is as cool and crafty a collection of songs as you could hope to find in the modern age. But then when you consider who they are and where they have been before, musically speaking, then it all becomes clear as you check out their past sonic resumes and find bands such as Black Light Mutants, The Speed of Sound, The Deceased and Playground to name but a few, listed.
References abound, everything from Magazine (who also call Manchester home) to Wall of Voodoo (who don't,) but essentially Weimar make unique unmistakable and unmissable music. Just listen to a song such as "Nights in Spanish Harlem" with its funky and soulful salvos or the strange and beguiling lilt of "Tatterdemallions", which plays us out, and tell me this is anything like you have heard before. Tell me that and I will call you a liar!
Dancing On A Volcano CD order
Bandcamp
Spotify
Soundcloud