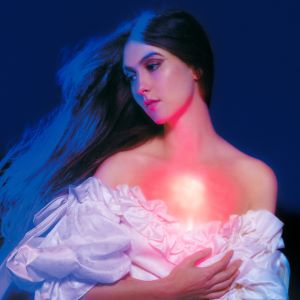 23 September 2022
Weyes Blood (Natalie Mering) gets right to the point with her new album, "And in the Darkness, Hearts Aglow" (Sub Pop, 2022)
Her band's September Facebook post announced, "[The new LP is] the second in a trilogy. This dystopian romance novel took a lot of dark juice to birth. Forged in fire as they say."
Just released, the first track, "It's Not Just Me, It's Everybody", clearly invites listeners to her dark party; one she isn't sure even she fits in to, judging by the first line, "Sitting at this party, wondering if anyone knows me."
As Natalie recently reflected when speaking with NMD (New Music Daily) (Apple Music), the song and album will hopefully be seen as totems that foster community among so many isolated souls.
"I guess I was kind of feeling during the pandemic that isolation has become a pretty big theme for a lot of modern people at this time, and the pandemic was a bit like gasoline being poured on the fire. So, it's like there needs to be some kind of Buddhist anthem about how we're all kind of going through a very similar thing and that shouldn't diminish our individual experience, but it should…bring us closer together and be kind of like the salve of dealing with all this modern anxiety."
Like many of Weyes Blood's best efforts on past albums and EPs, Natalie infuses the new song with her signature 70s-era soft rock evocations. Her pristine voice, reminiscent of Karen Carpenter, Joan Baez, and Mary Travers, sits perfectly alongside a pared-down arrangement of acoustic guitars and a simple rhythms. Listeners won't stay in the 70s, though, as Natalie contemporizes the song with a simple yet elegant solution; a backdrop of symphonic melodies tinged with melodic and dissonant notes.
Weyes Blood will be touring extensively, starting in December in Los Angeles, before moving on to Europe and the UK in January/February. She returns to the US and Canada for dates in February, March, and early April.
Links