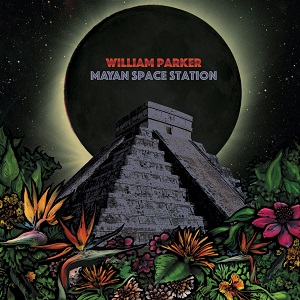 2 July 2021
Over nearly five decades of service, bassist and composer William Parker has earned the title legend. From his work with free jazz piano master Cecil Taylor to his many band projects (Farmers By Nature, Other Dimensions in Music, et al) and long associations with peers Matthew Shipp, David S. Ware, Roy Campbell, Whit Dickey, Gerald Cleaver, Hamid Drake and Daniel Carter, Parker has walked many walks and talked many talks, creating a vast and deep catalog of adventurous music. Following the release earlier this year of the box set Migration of Silence Into and Out of the Tone World Volumes 1-10 and the biography Universal Tonality: The Life and Music of William Parker, both of which serve as benchmarks in his long career, the bassist eschews any signs of slowing down by issuing a pair of brand new albums, both of which highlight his expert trio work.
Mayan Space Station features Cleaver on drums and the fast-rising Ava Mendoza on guitar for a psychedelic rock take on jazz. As a composer, Parker sets up frameworks for he and his musicians to wander, barely sticking to the road but always heading in the right direction, and by keeping the tonal center as a beacon. Sounding at times like a classic rock player freed from the tyranny of blues-based hard rock, Mendoza (leader of the avant rock power trio Unnatural Ways) wields her distorted tone as the main aural signpost, soaring over her bandmates' rumble with playing more modal than chordal. A man with his own distinctive sound on the drums, the much-in-demand Cleaver never abandons the beat, but his emphasis definitely falls on creating a roiling clatter underneath the melodies. Parker himself evinces a remarkable ability to keep a strong groove going, while also taking side trips that keep the bottom end of the tracks elastic and flexible. Opener "Tabasco" serves as the equivalent of a musical handshake, strong and sure without trying to dominate, and laying out the vibe to expect for the rest of the proceedings. The trio really cooks when it stretches out, diving straight into a free jazz ocean with "Canyons of Light," swinging harder on "The Wall Tumbles Down" than anywhere else on the record (and featuring Parker on a bowel-rattling arco solo), and taking the general themes of "Tabasco" and pulling them out to their limits on the title track. Mayan Space Station is a brilliant record that may well introduce jazz to your rock snob friends.
A sequel of sorts to Painters Spring, Painters Winter features Drake and Carter, the same personnel with whom Parker made that 2000 landmark. Drake's drumming versatility has been well-documented on many records, including several in Bill Laswell's orbit, while Carter's mastery of various mouth-driven instruments (trumpet, saxophone, clarinet, flute) makes him a first call blower for anyone looking to color outside the lines. The decades the three men have had playing alongside each other shows in this tight set of Parker compositions. Kicker "Groove 77" takes its title seriously, with Parker laying it down so solidly that Carter (on trumpet) and Drake have no choice but to launch into orbit. The title track sees Parker setting aside his bass for a trombonium, a compact, valved version of the trombone, and using it to lock horns with Carter's flute, while Drake keeps the ground shifting beneath his bandmates' feet. "Painted Scarf" takes a similar tack, with Parker on shakuhachi instead of trombonium. "Happiness" and "A Curley Russell" (dedicated to the eponymous bassist) put Carter on saxophone for flawless lessons in chordless jazz that don't sound like pure chaos – no matter how far out Carter and Drake threaten to go, Parker keeps them tethered to his rhythm, even as he bends it into shapes that serve his own purposes. Painters Winter captures the sound of old colleagues casually celebrating their long experience together.
Parker may have spent the first part of this year with projects intended to cement his legacy, but in truth his constant forward motion and dedication to new music make him the legend that he is. Both Mayan Space Station and Painters Winter prove it.
Pre-order links:
Mayan Space Station: https://williamparker.bandcamp.com/album/mayan-space-station
Painters Winter: https://williamparker.bandcamp.com/album/painters-winter