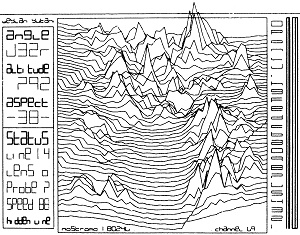 28 June 2017
During his lifetime, West Yorkshire, UK-born Alan Sutcliffe (1930-2014) founded the Computer Arts Society, produced animation for Ridley Scott's 1979 film Alien (seen in the cover art) and acted as part-time director for Electronic Music Studios, creators of the EMS Synthi AKS. Now his early 70s improvisations on that legendary instrument have finally been released, adding scope to a man already regarded as a genius.
The first side of EMS Synthi AKS Improv consists of five tracks where pulsing, throbbing squelch and ominous tones either blend or act as their own conveyors of mood. Interstellar blips meet cyber-industrial grinds as the space age merges with the tech age. The near fifteen minute musique concrète opus "Slide Show" takes up the second side. Here, sparse percussion collies with a pianola, wind instruments that could be recorders and eventually shortwave radio. It's like Fifty Foot Hose performing Edgard Varèse.
A more comprehensive collection of Sutcliffe's work is scheduled for the end of the year on Trunk Records, but, for now, this is a perfect introduction to a mind that impacted every single one of our lives.