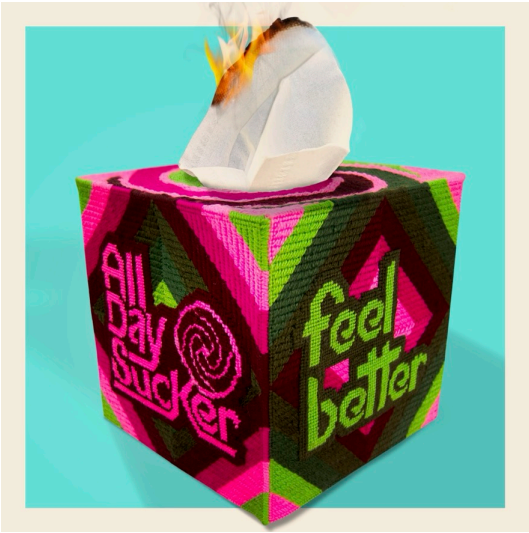 9 November 2023
Feel Better – All Day Sucker – Feel Better (big WOW Music)
You can tell a lot about a band by the company they keep; that's what they say, right? Well, Morty Coyle and Jordan Summers, the masterminds behind the sonic odyssey of All Day Sucker, have rubbed shoulders and shared the spotlight with the likes of Jakob Dylan (spawn of His Bobness), Rami Jaffee of the Wallflowers (later ascending into the pantheon of Foo Fighters), and Luther Russell of the Freewheelers. And that speaks volumes about them.
With Coyle taking the helm as the wordsmith and Summers crafting the melodic tapestry, All Day Sucker continues to carve its path in the realm of classic pop. Their influences, as diverse as the harmonious chaos of the Replacements and the sophisticated pop stylings of Squeeze, echo throughout their work. Just listen to "Wilt" and tell me that Mssrs. Difford and Tilbrook aren't green with envy. There's even a hint of that quintessentially English wit, Noel Coward – albeit a Coward who's grown up in Swindon and found his way into the ranks of XTC.
For a band deeply rooted in the cradle of American musical heritage, there's a certain un-American charm, a refreshing deviation from the norm, almost as if they're rewriting the Great American Songbook for an exclusively British audience. Oh, the audacity! The brilliant audacity.
"Last Night at Gladstone's" could easily be mistaken for a long-lost Nick Lowe gem. At the same time, "Hardly Any Wonder" showcases their knack for shifting gears effortlessly into more measured, soulful balladeering. And "Pilgrimage Bridge" saunters at a mid-tempo, reminiscent of a tune that would have found a cosy home in Joe Jackson's musical arsenal. (Sorry about all the name-dropping.)
But it's not just the brilliance of their compositions that resonates with me; it's their defiance against the transient whims of trends and zeitgeists. All Day Sucker stands as a testament to the futility of chasing after fleeting fads. Each album spin serves as a small victory against the suffocating grip of the mainstream, nudging the world towards a slightly quirkier, more authentic existence. Join me, won't you, in this delightful rebellion?