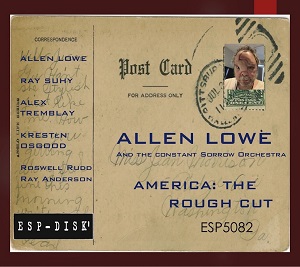 26 April 2023
Saxophonist Allen Lowe has lived one hell of a music-obsessed life. Outside of his own albums, which stretch back to the mid-eighties, he's curated jazz festivals, worked as a freelance audio and mastering engineer, written a half-dozen books about music, and worked with a murderer's row of musicians in both the bop and avant-garde camps: Matthew Shipp, Julius Hemphill, David Murray, Roswell Rudd, Marc Ribot, Doc Cheatham, Don Byron, and tons more. Plus he co-founded the brilliant twenty-first century free jazz outfit East Axis. He also had to go through fourteen cancer surgeries, one of which left him with a near-debilitating case of insomnia, topped off with neuropathy. During that period, he dealt with it as musicians would: since he couldn't sleep anyway, he might as well make music, and his prolific rate of composition resulted in two new albums: In the Dark, which directly addresses his health, and America: The Rough Cut, a state of music declaration.
With Lowe backed by keyboardist Lewis Porter, clarinetist Ken Peplowski, saxophonists Aaron Johnson and Lisa Parrott, trumpeter Kellin Hannas, trombonist Brian Simontachhi, bassists Kyle Colina and Alex Tremblay, and drummer Rob Landis, In the Dark spreads thirty-one songs across three disks. Essaying everything from blues to bop to ballads to even tango, Lowe leads his troop through the tracks with a commitment to his vision, but the flexibility to allow his pals to play the way they need. Tributes like "Poem For Eric Dolphy," "Memories of Jaki," and "Goodbye Barry Harris," as well as tunes like "Velasco's Revenger," "Out to Brunch," and "Nita's Mom," show equal devotion to melody and improvisation, not to mention a deep reverence for old-fashioned swing and the blues. Then there are the eight "In the Dark" songs, traversing intense discomfort ("Night Terrors," "Desperate Circles") to post-trauma relief ("For Francis," "For Helen"). In the Dark is a long journey, but a fruitful one.
With a different and more varied lineup (primarily guitarist Ray Suhy, Tremblay, and drummer Kresten Osgood) and a more playful tone, America: The Rough Cut is a satirical commentary on the state of American music. Thus the record includes sly nods to country music ("Cheatin' My Heart"), rock ("Blues in Shreds," "Metallic Taste"), gospel ("At a Baptist Meeting," featuring the late, great Roswell Rudd), folk ("Eh, Death?"), free jazz ("Blues for Unprepared Guitarist"), and blues – lots and lots of blues. Indeed, the blues is where the album's beating heart lies, whether it's the country blues rib "Cold Was the Night, Dark Was the Ground," the blues-into-bebop showcase "It's the End," or the straightforward expression of "Full Moon Moan." The intent ranges from gentle pokes to snide attacks, but never falls into bitterness or being mean for meanness' sake. That doesn't mean Lowe doesn't have things on his mind, particularly on "Unprepared Guitarist," but he's more interested in making us think than in scoring points. Plus he's happy to drop the criticism to simply pay tribute to his wife on "Hymn for Her," a sign that his intent isn't to sneer his way through the record. Besides, being both the player and the historian he is, there's apparently no genre at which he doesn't excel, making America: The Rough Cut a pleasure whether you get the jokes or not.