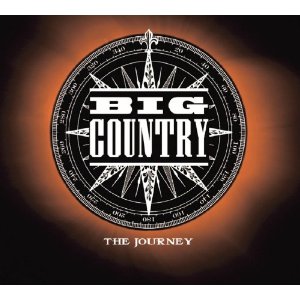 3 April 2013
One of the hardest feats for a band to pull off is the replacement of a lead singer. Whether it's from internal struggles (Pink Floyd, Van Halen, 10,000 Maniacs) or due to sudden death (New Order, AC/DC, Lynyrd Skynyrd), very few bands are successful at doing so. One such band that successfully pulled off this feat was Big Country. With the suicide of Stuart Adamson in 2001, it would seem that the book had been closed on Big Country. Two years ago, the surviving Big Country members asked Mike Peters, lead singer of The Alarm, to fill their dead leader's shoes for a series of Thirtieth Anniversary shows. Surprisingly, the shows were well-received. After such an endeavor, the inevitable question arises: what to do next? After soul-searching, the band decided to take their reunion into the studio.
The resulting album, The Journey, finds Big Country at an interesting
crossroads. Peters—a powerhouse singer and songwriter in his own right—brings a new depth and passion to Big Country. Wisely, Peters—who wrote most of the material for the new album—doesn't try to cop Adamson's style; such an endeavor would be an embarrassment. Instead, he brings his own distinctive musical style to the band, who subsequently meld their own musical histories together.
It quickly becomes obvious that Peters was the best man for the job. Bringing his chops for writing expansive, catchy rock anthems, Peters reinvigorates Big Country after their loss; epic stadium-rocking songs "After the Flood" and "Winter Fire" that could have easily come from Adamson's hand. More than anything, the reinvigorated Big Country are a powerhouse of rock, offering some driving, potent rock that makes you forget these guys are middle-aged rockers. Highlights include "Home of the Brave" and "The Journey," which makes you remember why, in the early 1980s, both bands were considered equals to U2.
"There will be hurt/There will be pain/There will be a lot of tears/A lot of joy/But what we have left cannot be destroyed/Time to move on, to let it bleed/What will be will be," Peters sings on "The Journey." "Sometimes you have to make a change," he sings proudly, and that sums up the album's positive spirit. The Journey is easily one of the best records of the year, a surprising return for a band no one expected to return, and a proud continuation of Stuart Adamson's legacy.