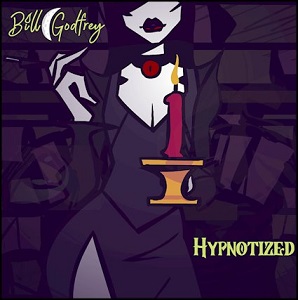 15 October 2023
Hypnotized is the debut release from Austin, Texas singer-songwriter Bill Godfrey. Setting himself an ambitious project, Godfrey wrote the EP around the concept of "how the mind seeks influence," and he explores emotions ranging from fear to grief. He covers a ton of ground sonically and thematically in just five songs, and with a sound aligned with the indie pop and folk of artists like Feist and José González, he achieves this spectacularly without reverting to the bombastic melodrama typical of concept albums.
That's not to say this album is as bare as Bruce Springsteen's Nebraska. There likely does exist stripped-down demos of these songs, because that seems to be the core of every track, but the EP benefits beautifully from the additions of lush instrumentation carefully and thoughtfully layered on. There's even a grand, baroque sensibility to the moving "Sprightly Gentleman" that sounds like something Van Dyke Parks would have come up with. Nevertheless, there is a modest approach here, and the focus first and foremost is on Godfrey's emotive songwriting.
Godfrey only adds what is absolutely necessary and what makes the most sense for the songs. The heavy drums and distorted, screeching guitars of "Mama Help Me" works great because it echoes the mental distress of the lyrics, whereas the purely acoustic "Perfect Place" makes sense because it finds the artist at his most content. Hypnotized is an impressive, intelligently executed debut from an artist who seems to have emerged already fully-formed.