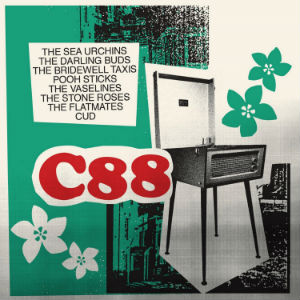 9 July 2017
Wow, a year has passed since I reviewed Cherry Red's C87 box set, and here we are again with C88. This new release is a celebration of the Eighties Indie scene, documenting a golden era when tuneful guitar-based bands made records on shoestring budgets, often issued on small labels with hand-made artwork, with little hope of mainstream exposure. Numerous tracks have never been on CD before. The deluxe clamshell package includes a weighty booklet full of illustrations, with a 9,000- word sleeve-note and band-by-band biographies by C86 co-compiler Neil Taylor.
Unlike my C87 review, this write-up will be more succinct. This is mostly due to a lack of time as I am in the middle of getting ready to move house! I have listened to C88 on and off for the past month, mostly in my car while on a lengthy business trip. I also went through all three disks and pulled out my favorite tracks that I am featuring on an upcoming radio show. Standouts for any listener depend on their personal tastes. I tend to gravitate toward the whimsical and sparkling pop gems sprinkled throughout this collection. The word twee will also come to mind as some of these innocent tunes unfold. It was definitely a golden time for English pop, as evidenced by what you'll experience here. So enough introspection, time to clue you in on some goodies.
Disk 1 is probably my favorite, though that is most likely because I have heard it more than the other disks. "On Tape" from The Pooh Sticks pokes fun at vinyl junkies and name checks a number of bands. There is a definite sardonic but fun twist to this tune, and I like it! Listeners may recognize the swirling "Elephant Stone (7" Version) from The Stone Roses, and it's produced by New Order's Peter Hook. It's a hip swaying little corker of a tune, and one of the best here. Brighton band The Popguns (still active in 2017) offer a winsome, winning tune with pretty vocals on "Where You Go (Flexi version)". "Are You Happy Now? (Molesworth version)" has a sugar-coated Buzzcocks feel with girl group vocals. Nice! "One Summer" from Moss Poles is a testament of a short-lived band influenced by The Ramones and unknown surf punk bands. Glasgow band The Orchids were Sarah Record faves who recorded a number of summery singles, including "Defy the Law". It is softly rendered pop with glistening organ and faintly accented vocals. The catchy "Julie Christie" is an upbeat tune from the really swell group The Driscolls. If American group Choo Choo Train ring any bells, that's because it's Paul Chastain and Ric Menck from the venerable Velvet Crush. And as expected, this is a muscular tune with the requisite ringing guitars and great harmonies. Thrilled Skinny toss down "So Happy to Be Alive" with a verve worthy of Wire. It's fast, furious, and sweaty. Great! I also dig the pensive "She's Gone" from Crewe based The Train Set, which channels The Smiths and Echo and the Bunnymen. The lovely psych pop of "Mary's Garden" from The Mock Turtles is another high point of this disk, as is the terrific gem "Colours and Shapes (Demo)" from the Pale Saints.
Disk 2 starts off with the bloody fantastic "The Hill" from one of this writer's favorite bands, The House of Love. Featuring an uncredited Andrea Heukamp singing lead in place of Guy Chadwick, it's a prime slice of late period 80s psych pop.
"Dying for It" from The Vaselines is a somewhat noisy fuzz fest from this short-lived favorite of Kurt Cobain (Nirvana covered their songs). "Shame on You" from Welsh band The Darling Buds is like an amalgamation of Blondie and Lush, with its high velocity pop punk and cute vocals. "Prize" from Kitchens of Distinction is as fine a song as you'll find in this collection, and is pop perfection of the Go Betweens variety. It shoots this listener straight back to those hallowed days of the late 80s and leaves me wanting more. Excellent! I also like "Heaven Knows" by The Flatmates, a fine example of the period with more than a soupcon of girl group smarts. And ooh, I am a total sucker for the pure pop of "Yesterday" by The Nivens, with its charming melody and jangly guitar surrounding it. The enchanting "Michael Furey" by Metro Trinity features guitarist Jez Williams (Doves) and is based on a James Joyce story. The ultra short "Theme from Cow" by Inspiral Carpets is a hair tossing, finger snapping instrumental. Cool!
And onward to the final disk in this box set. It's been quite a ride, and a long while since I started writing this up. Starting off with the excellent, psych-inflected "Sun, Sea, Sand" from The Revolving Paint Dream, we are treated to a delicate and dreamy tune. Wonderful!
The surfin' fun on "Surfaround" by The Fizzbombs is super fun and fuzzed out. The awesomely named The Church Grims offer us "Plaster Saint", featuring violin and the cool, bass-driven indie pop made famous by The Clean and The Bats. The terrific Annie and the Aeroplanes give listeners a buzzsaw pop punk treat with "A Million Zillion Miles". Love it! I also dig "Cincinnati" by Edinburgh's Holidaymakers, a jangly minor masterpiece if ever there was one. The lo-fi, somewhat literary "The Camera Loves Me" by Would-Be-Goods (named after an Edwardian novel) is cute and clever and is backed by The Monochrome Set. Then we have the inimitable Bad Dream Fancy Dress on the silly "Curry Crazy", mixing up a garage rock and 60s bohemia vibe. And with these final words, the review has come to an end. It's been a fun, always interesting listen, and fans of offbeat, charming, and downright lovely music from 1988 would do well to pick up this collection. Recommended as always!
Pick up the C88 box set over at Cherry Red or at any fine music emporium.