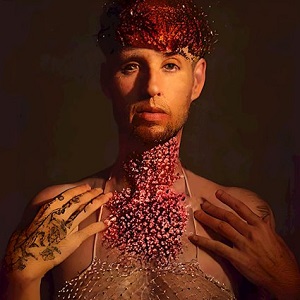 17 June 2023
Carry The Branches is the new solo project of Brooklyn-based musician Sonar Mallory, and on their new EP Zombie Telegram they present an impressive combination of lyrical vulnerability and a keen sense for artistic experimentation that is influenced by the likes of contemporary artists Perfume Genius, St. Vincent, and Beach House. Mallory discovered a passion for music as a kid in a cult that they grew up in and would eventually escape from. The COVID pandemic would prove, as it has for so many artists, an especially fertile and revelatory period for Mallory, and turning to an synthesizer-inflected sound, they laid the foundations for a new series of EPs.
Working with producer Cody Fitzgerald, Mallory builds a suitably cinematic soundscape for every track, and lays over top a series of deeply confessional lyrics that range from their childhood to more recent relationships struggles. The best example of this is the lead single "Small Everyone" which started as a love song but morphed into something far more ambivalent and melancholy when their relationship hit a rough patch. Other songs like "Green Night'' and "We're Not Coming Back" have a distinctly underground approach, but their larger-than-life production and sensibility seem destined for arenas. Even on "Azure" where they opt for a stripped-back guitar sound, the song morphs sinisterly into a grungey burst of angst.
High intensity seems to be the running theme of Zombie Telegram as Mallory expresses themselves unabashedly in an exposed, maudlin, and sometimes even violent manner, creating an extremely captivating, thrilling experience that continues to unfold with each listen.