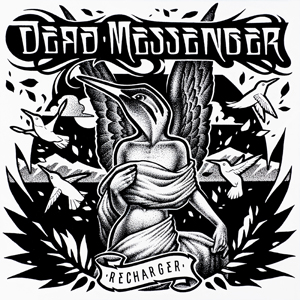 24 March 2013
Veteran Montreal pop rockers return with a sparkling new collection of sweaty tunes. After a long period in limbo following a harrowing brush with death by one of their members, Dead Messenger return with all the fierceness they've become legendary for. Recharger wasn't made for the awkward hipster set who never learned how to cut loose and jump around to well-played rock n roll. Rather, DM are pointing these stage-burners at the tattooed and gnarly barflies who work for the weekend. Breakdown anthems like "Can't Help Myself" were tailor made for blue-collar bangers and real people, taking a cue from Springsteen and that timeless, unabashed 70s to 90s epic rock sound that turns a cliche on it's end so you can see where the original excitement sprung from. Definitely one of the rawest and most rocking release by these hardworking gents, it will be a spring board to many hard touring and blasted nights around the country in the year to come. The guitars peel off riff after catchy riff while the think as a brick bass and drums keep up the bottom end like champs. Lead Messenger Roger manages to alternate smooth harmony-laden passages with soul-searing screams on most tracks, knocking it out of the park on the breakdown heavy "After Everything". Ted, the lead guitarist mangles every solo like it was the last on earth with every ounce of juice anyone ever threw into an amp and more.
Bassist Alex and Drummer Charleton sit perfectly together in pocket, throwing off the perfect amount of gnarl.
This album, the third full length from Dead Messenger, is one of their most consistent, cohesive and energetic. There are few bands that manage to splice the pop gene with rock and roll without compromising either one, and DM have managed to do this and then some. A hell-fuckin-yeah fist-pumping party of an album!