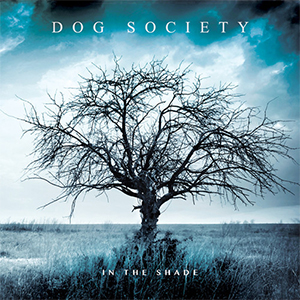 19 June 2014
They say that Kurt Cobain was hugely influenced by the Beatles. New York's Dog Society sound like Nirvana in an alternate universe where Cobain's Beatles-love was taken to the extreme, washing away many of the layers and layers of Pixies grunge. After their major label debut Test Your Own Eyes released back in 1993 on East-West/Atlantic Records, Dog Society is back again following up 2012's Emerge with their new album In The Shade. Thankfully, they have retained their beautiful knack for Beatlesque harmonies, and have since only grown and expanded even further with a thicker and fuller sound.
The opening track "Heal Me Friend* show off the band at their most Nirvana-esque, but otherwise the band often shows a softer, poppier side on the album. They even resemble something of either the Lemonheads or Semisonic in their prime. Nevertheless, a psychedelic, late-60's Beatles influence is strong in their sound, especially in songs like "Losing Her Again" which could have fit snugly on the second side of Abbey Road. "The Killer You Can't See" is easily a standout here, including some absolutely sublime guitar work and beautifully tender vocals.
Dog Society's original intention was to record an EP only, but the feeling was so good in the studio, an entire album emerged, and thank goodness it did. It's impossible to get enough out of this album, and even though it leaves you with a satisfied feeling, you still just want more once it's finished. It seems as if Dog Society's original 90's debut was even a little premature, because now has finally come the time for the band. The songwriting, playing, harmonies—_everything_ about the band is stronger. In The Shade is a wholly different experience and better album than their original debut, which is hard to come by from a reunited band, and it will be released July 22nd.