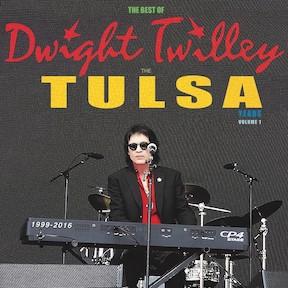 21 May 2023
Dwight Twilley may not be as well known as some of the other acts that made up the springboard roster of Leon Russell's Shelter Record Label – namely, Tom Petty, JJ Cale, and Russell himself – still, along with these musical stalwarts, he indeed defined what became known as the "Tulsa Sound." (Although I will qualify that statement by saying that I am penning this from the other side of the Atlantic and so it may just be my British lack of musical education in such matters which has informed this statement.)
But if this specific, regional sound is defined by its blend of rock, blues, country, and soul influences, its exquisite song-crafting, a real sense of rhythm and groove, and an accessible, relaxed vocal style, then Dwight Twilley is everything you need to understand and appreciate it. And this latest collection of his work (which covers six original albums: "Tulsa," "The Luck," "47 Moons," "Green Blimp," "Soundtrack" and "Always") is a beautiful sonic odyssey through his relatively recent works and a fine showcase of an artist at the peak of his powers.
And having painted Twilley into a sonic corner by slapping such a singular label on him, this album then kicks down the generic barricades and jumps numerous sonic boundaries to show us just how broad the Tulsa Sound was and, more importantly, just how far he pushed it.
"Could Be Love" kicks us off with its stomping groove, a song built on pop-aware infectiousness and rock drive, and it is such attractive opposites that feature throughout his work, making his songs home to a creative collision of sounds and styles. "A Little Less Love" is a shimmering, folky soundscape that rings out with a love of Beatle -esque cinematic pop, "No Place Like Home" is that perfect blend of raw rock 'n' roll muscle and sweet melody that bands such as the Georgia Satellites would have killed to have written and "Chanda" is ripe with the '60s, pastoral-pop haze.
But Twilley loves to rock out, and he does it with the best of them, and you won't find better blissful boogies or graceful grooviness than with songs like " Better Watch Out," "Let Her Dance," and the glorious rock 'n' soul sensations of "Get Up."
Reviewing retrospectives like this often feels like a full stop (or period, I believe, is the term for stateside readers) at the end of a sentence. But nothing could be further from the truth as Dwight Twilley is still very much a visible and important part of the current music scene. But with such a long and illustrious career, it pays to take a wonderfully nostalgic walk through past glories, and glories they very much are.
So whether you are looking for a gentle reminder of past times, exploring his music as a result of appreciating his more recent shows, a musical historian, power-pop completist, or, and this is the more likely option, just a fan of quality music, then this album is the place to start with this artist…before quickly picking up the rest of his back catalog…obviously!