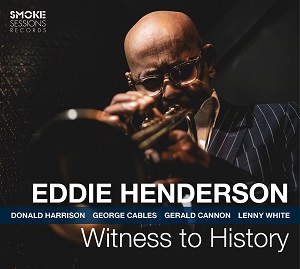 15 September 2023
Ever research someone and think, "Holy cats, what a life!" Dr. Eddie Henderson can bring about that kind of gasp. The trumpeter's musical career is impressive – he took his first lesson from Louis Armstrong, joined Herbie Hancock's experimental fusion band Mwandishi, and logged serious time with luminaries like Kenny Barron, Gary Bartz, Billy Harper, Stanley Cowell, Norman Connors and new millennium supergroup the Cookers He also has a half-century catalog as a leader, beginning with his 1973 rare groove classic Realization. On top of that, he served in the Air Force, obtained a medical degree and practiced medicine, and was the first African-American figure skater to compete nationally. This is a guy who never sat idle.
So it's no wonder the eighty-three-year-old calls his latest album Witness to History – it's the truth. Released fifty years after Realizations, the album acts as both summary and continuation of his remarkable career. Joined by saxophonist Donald Harrison, bassist Gerald Cannon, drummer Lenny White, and pianist George Cables, with whom Henderson has played since 1975, Henderson playfully pokes at his past without wallowing in it. For example, he uses his groovy opening original "Scorpio Rising" to tweak his own "Scorpio-Libra," the first song on Realization – not covering it, but instead refreshing the vibe. For Cables' "Why Not?" and the Rodgers and Hart classic "It Never Entered My Mind," he nods to his Mwandishi work, reframing post bop in funky form and boundary-stretching harmony. He frames hard bop trumpet master Lee Morgan's "Totem Pole" in a bossa nova rhythm, and gives Eddie Harris' much-recorded standard "Freedom Jazz Dance" (which Henderson first heard via Miles Davis' famed take) a shot of his own tasteful energy.
Throughout Henderson leads the band only in the way someone with this much experience can: with smart choice of material, freedom for his sidepeople to express themselves, and an adventurous spirit that will clearly never fade. Mainstream jazz without being straightahead, Witness to History is a wonderful example of age being nothin' but a number.