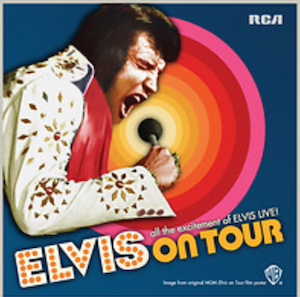 18 January 2023
More than a half-century after the release of the feature documentary Elvis on Tour, a companion package of the same name delivers a big hunk of burning sounds (plus a Blu-ray of the original film). Capturing The King in all his onstage glory, as well as at intimate rehearsals, this humongous set finds Elvis Presley still basking in the triumphant glow of his late-'60s comeback, thrilling the adoring masses and, more importantly, making fine music.
Four CDs contain full concerts from April 1972. While the set list varies little from one to the next, any one of the quartet of shows offers a chance to marvel anew at Elvis' range. The April 9 performance includes older hits ("Love Me Tender"), newer hits ("Suspicious Minds"), r'n'b classics ("I Got a Woman"), kitsch epics ("You Gave Me a Mountain"), songs of faith ("How Great Thou Art") and covers of kindred souls (Tony Joe White's "Polk Salad Annie"). Sounding relaxed and engaged, Presley makes everything his own, buoyed by a big, white-hot band that features guitarist James Burton, drummer Ronnie Tutt and terrific vocal backing from the Sweet Inspirations and J.D. Sumner and the Stamps. These grandiose performances have a distinct gospel feel, whatever the source material, suggesting Presley hasn't strayed far from his roots.
Two entertaining discs of late-March rehearsals present less-polished takes on much of the same music, along with songs that didn't go live, among them Chuck Berry's "Johnny B. Goode" and Presley's own "Young and Beautiful," a relatively obscure early ballad. The high point, however, comes when Elvis explores gospel tunes in a stripped-down format – singing "I, John" and "Turn Your Eyes Upon Jesus/Nearer My God to Thee," Presley sounds truly fulfilled. It's a poignant reminder of just how great he was before the sad times arrived.
Elvis on Tour is available now digitally, with vinyl and CD versions due at the end of the month.